'09 Vacation to the Florida Keys & Smoky Mountains
Our proposed route for this vacation takes approximately 4200 miles ( we shall see....like last year). We plan to take the southern leg first and return after visiting the Smoky Mountains. Much of our trip's route was determined by 'hooking up' some of the 'America's Scenic Byways' as seen at www.byways.org
Day 1, 220 miles......whoa!! drove in the rain most all day. Here is a neat train depot/ museum in Antlers, OK that was closed but provided some really needed shelter out of the rain for an hour or so. We stopped to try and let the rain get ahead of us....but to no avail. We ended up stopping in Broken Bow, OK for the night ( about 100miles short of our goal). We are re-evaluating the proposed route to try and drop south quicker out of the rain. However, the rain is predicted to drop south with us......we may have a few more days of driving in the rain.
Day 2, 318 miles/538 total. This pictures shows the most exciting thing we saw today.....blue sky. It rained over 4 inches in Broken Bow last night. A horrific storm. We finally left town this morning around 11am in a downpour. We deviated our route somewhat to head straight south to get out of the rain, which we finally did around Longview, Tx. Stopped for the night in Alexandria, La. We are contemplating whether or not to continue the rest of the trip due to weather forecasts that take the rain to the Gulf coast with us. We may do a 'tour de Texas' instead...but will wait to make that decision after checking weather forecasts Monday morning. After spending a day and a half in a 'splash fest' on the cycle we are not excited about continuing that for several more days. Stay tuned to see "Where are Phil & Kathleen?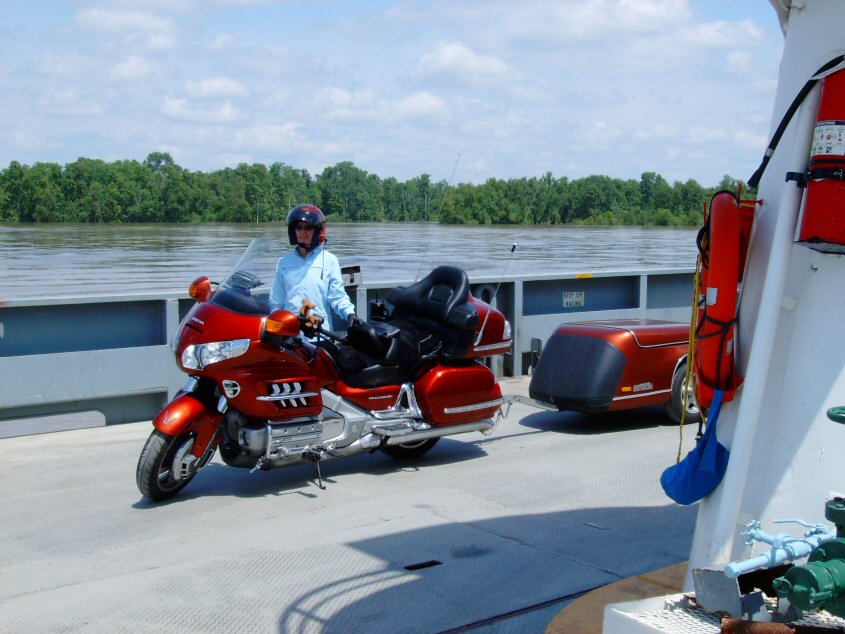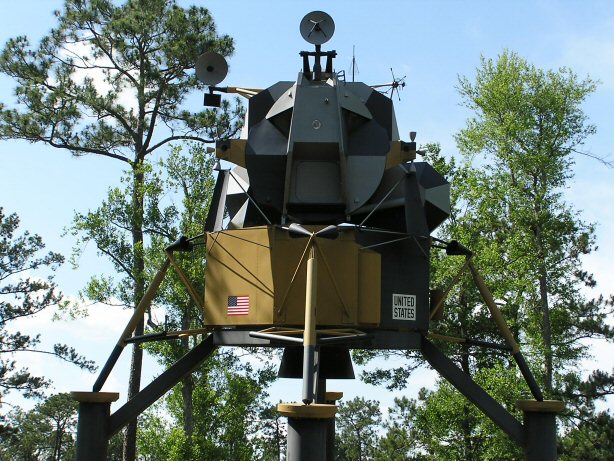 Day 3, 303 miles/841 total. Today was a wonderful ride. We took a scenic byway called 'Zachary Taylor Scenic Route' it was a wonderful motorcycle road....the road was almost all to ourselves.....and really neat scenery. We managed a ferry ride....and a really funny experience. In a way....it was somewhat of a morbid day. Saw a lot of cemeteries where the concrete coffins were on top of the ground......Kathleen thought they were for sale.....I told her no, they were already occupied. Then, we were going thru a small town when a funeral motorcade blocked our route. We waited for it to pass...then just fell in line, since they were headed down the same road as us. It seemed like f o r e v e r following the motorcade ( we fit right in since our cycle headlights flash all the time ). Then finally after several miles of slow speed...they began turning....as we got to the corner they were turning at, there was a beautiful blue sign with an arrow ( Kathleen and I both figured it was a sign pointing to the cemetery ) ...we both busted laughing...almost to tears.....It said "Landfill" ( he must have not been a 'favorite' family member). We even managed some beach today......so Where are Phil & Kathleen?
Day 4, 152 miles/993 total. OK...by now you have probably figured out we continued with the trip as planned. We are a bit behind schedule....but who cares...that's the beauty of motorcycle traveling...there is no schedule.
Last night we stayed at Gulfport, Ms.....after seeing the NASA test center ( with the above pictured moon lander). Today we didn't travel far and got a room on the beach at Pensacola Beach. A play day. Good thing....rain was just ahead of us and we'd have surely caught it if we continued.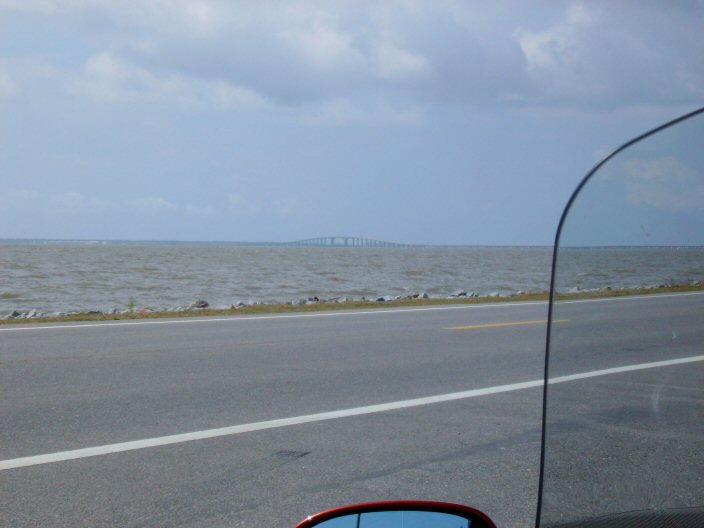 bridge we are headed over, out to Dauphin Island, Al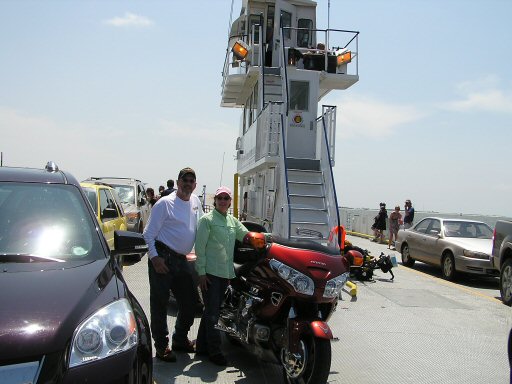 caught another ferry across Mobile Bay with lots of off shore oil derricks (the first ferry we caught was to cross the Mississippi River)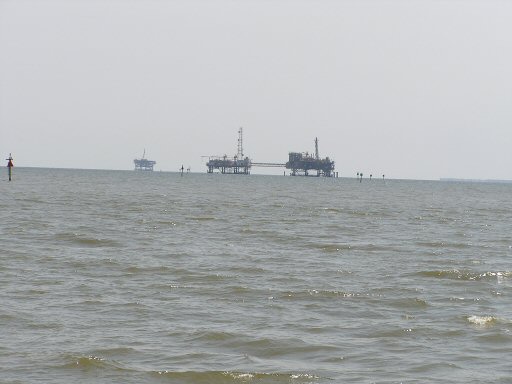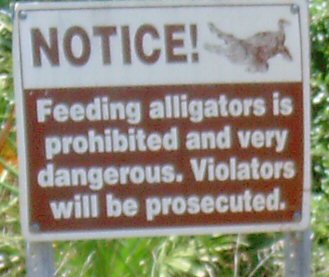 Kathleen was afraid she might be on the menu
The Pensacola beach is beautiful (right out our motel door) ....and we had a great time playing in the surf. Plan on doing a little more beach combing again in the morning before continuing the journey along the coast towards Tampa. We check the weather often but rain has become a non-issue.
Day 5, 277 miles/1270 total Decided to stay with the 'planned route' today and not try to make up any time. We took the slower, more scenic route along the coast on Santa Rosa island, thru Ft Walton Beach, Miramar Beach, Laguna Beach, Panama City Beach and Mexico Beach. It also included a wonderful drive thru a pine forest along the shore as well. We arrived at are 'target' stop for the night at Perry, Fl. We will check the weather in the morning before deciding on continuing the west coast of Florida.....or we may jump across the state and do the east coast first....doing a clockwise loop rather than the planned counter-clockwise loop....to avoid storms.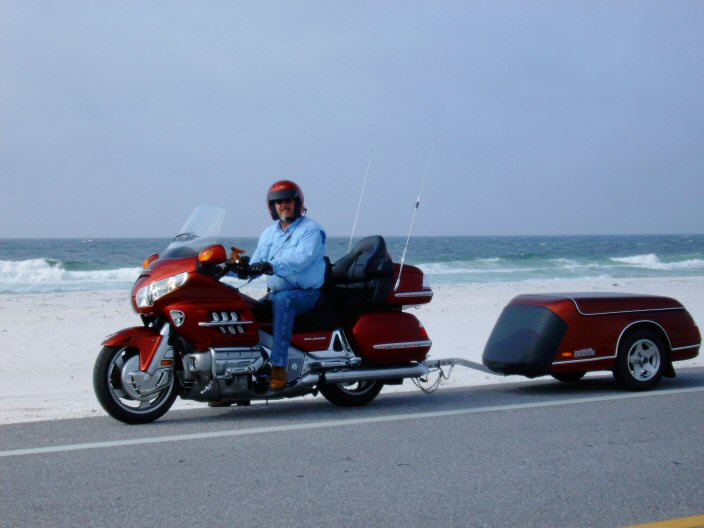 Saying good bye to Pensacola Beach.....it was fun...and beautiful ( white sand beaches, emerald colored water )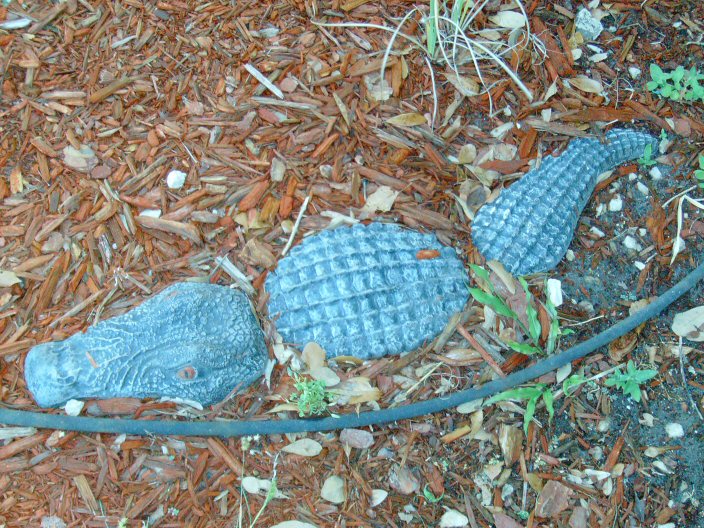 Saw our first gator at the KOA in Perry....Kathleen said they were not as scary as she thought they'd be.
Day 6, 190 miles/1460 total Not many miles today. Had a bad night at the KOA in Perry....the city of Perry tried to asphyxiate us overnight with some kind of insecticide.....very little sleep. We traveled to the Homosassa Springs Wildlife Park and enjoyed some of the indigenous animals to Florida (except Lu the Hippo). We were within 5 minutes of getting to our hotel in Tampa before getting soaked.....oh well....at least I don't think they are spraying insecticide tonight.....back to the Hampton Inn tonight!!!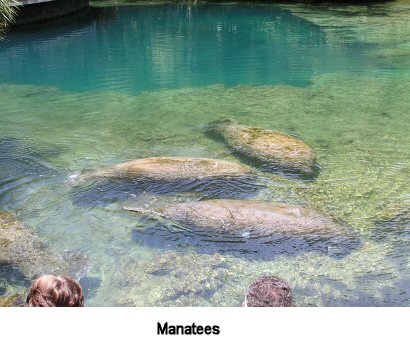 Day 7, 196 miles/1656 total We enjoyed a few hours at the Florida Aquarium in Tampa. It was billed as one of the top 10 aquariums in the country.....probably so. We then had a nice ride south to Fort Myers for the night. It was quite exciting dodging and diving between the storms. We arrived at our KOA target, mostly dry. However, if the night at this KOA is like the last KOA....this WILL BE our LAST KOA. We are excited to head to the Everglades tomorrow (thinking we might have to do an air boat tour ) and nearing our southern 'target' of Key West, we should be spending the night tomorrow somewhere on the Keys.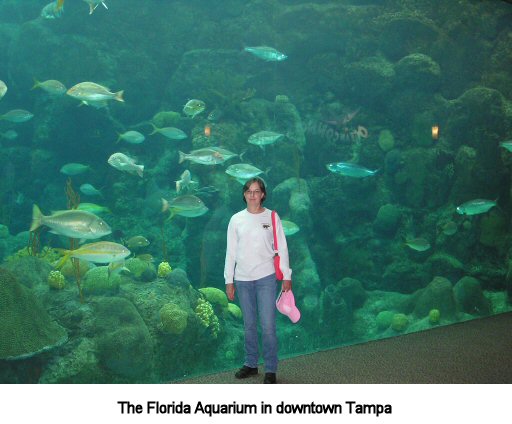 Day 8, 241 miles/1897 total We had a nice ride thru the Everglades. The several "Panther Crossing" signs we saw got our attention......probably more so for us motorcycle riders than car drivers. Before we saw the signs, we were wondering why they needed such high fences to keep the alligators off the roadway. We stopped for a while in Everglades City and took a 1 hour air-boat ride. It was a lot of fun. Holding our record intact (100%), we got rained on just a little bit....but made it to Florida City for the night, mostly dry. Took a dip in the pool..got some laundry done here at the Best Western and settled in for a restful night. Last night at the KOA was better....but I'm becoming fond of the nicer motels. We are only 125 miles from Key West and will make the journey across all those bridges tomorrow where we will spend a couple of nights there at Key West.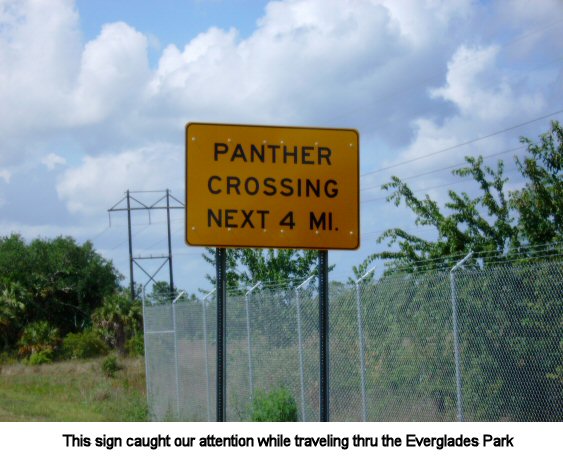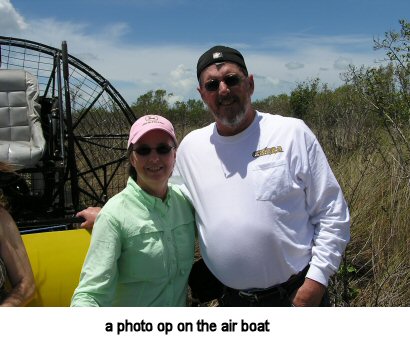 Day 9, 178 miles/2075 total Our record is intact....we crossed one of the 7-mile long bridges in the rain, but arrived in Key West in the sunshine. We have made reservations for tomorrow to take the Fast Cat Catamaran day trip to the Dry Tortugas National Park 70 miles west of Key West.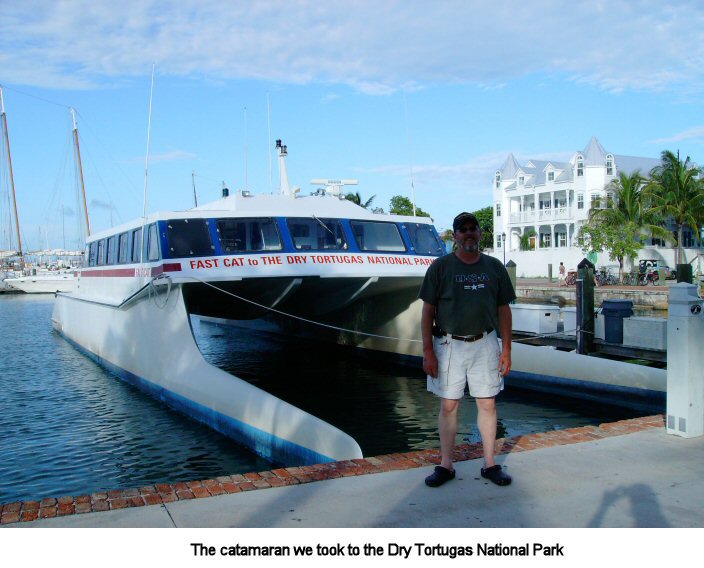 Day 10, 0 miles/2075 total We stayed at Key West today....sort of.... took the Fast Cat to the Dry Tortugas National park and toured the Fort Jefferson there and then snorkeled around the reef there. It was a wonderful day, perfect weather and the snorkeling was fantastic. Saw all kinds of coral and fish. We are now trying to figure out how to get out of Florida. The weather is going "south" real fast. There is a tropical low near Cuba that is getting ready to head this way and we are not sure we are going to make it out of town before it hits here. Our plan is to get up early tomorrow morning, check the weather and hopefully make a run for it....north. We are thinking we may have to scrap the plan to travel north along the east coast of Florida and come back up the west coast again to avoid the worst of the rain.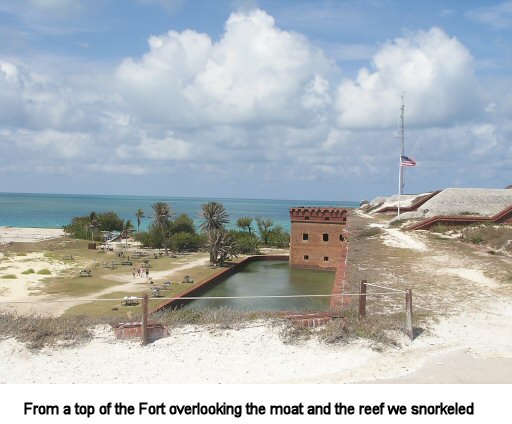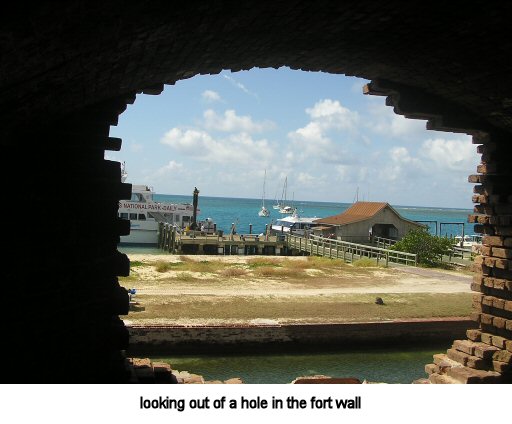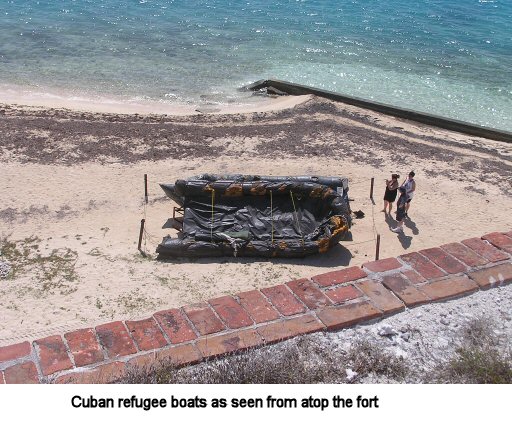 Day 11, 305 miles/2380 total Weren't sure we'd make it out of Key West this morning (huge storm with 2" of rain as we woke up) but we did. The whole state of Florida is socked in with tropical rains. We did manage 300 miles today making it to just east of Okeechobee lake. KOA was the plan...be we are at a Holiday Inn Express instead ;-) We didn't have internet service for the past 2 days so just now able to update. Oh, I DID get stopped by the Florida Highway Patrol today.....he didn't like my flashing headlights. Rather than educating him ( they usually don't like that ) about the legality of my modulated headlights for motorcycle safety....I just turned them off for him.......then turned them back on a few miles later.
Day 12, 280 miles/2660 total Did you see the picture below...proof positive that it has been WET on this journey.....but we have still enjoyed it immensely. It is hard to believe we made the mileage we did today. Our objective was to try and get out of Florida...and we almost made it. We dodged and ducked thru tropical force storms today and were finally forced to stop about 25 miles south of Jacksonville at St Augustine. The weather has been too bad to enjoy the beaches/scenery today. The I-phone that I purchased just before this trip has absolutely been a 'trip saver'. We will stop...check weather radar and adjust route and speed accordingly. We ended up following the east coast most of the way. We started the day thinking we'd head towards the west coast...but storm dodging ended up taking us up the east on the back side of the storms most of the day. With any luck....we will enjoy some of St. Augustine tomorrow and head towards Savannah, Ga.....and beyond.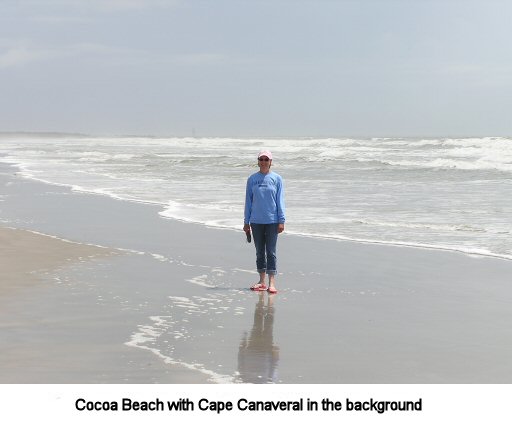 Day 13, 316 miles/2976 total Wow...our wettest day yet. Got an impromptu 'wake-up' call at 4:30am. The nylon cover that we put on the motorcycle every night caught enough rain and high wind to set off the security system that pages me......good grief ! At least I was able to see the bike from our second story room and did not have to run out in the storm to make sure all was well. We loaded the bike in the rain this morning and drove most all day in the rain...some heavy. Our sole objective for the day was to get north of the rain system in Florida.....much like the Kevin Costner film, Water World,......just looking for 'dry land'. We made it to Aiken, SC ( just east of Augusta, Ga ) and found it there !! We didn't get to see a lot of the sites we wanted to on the east coast of Florida but, since we had a lot of beach time earlier...we were just glad to move on to the Smoky Mountain leg of our trip. No pictures today...our cameras are not waterproof.
Day 14, 286 miles/3262 total What a wonderful day....good ride thru some absolutely beautiful countryside ( without rain !! ) We came across the Cowpens National Battlefield ( significant win in the Revolutionary War) and enjoyed the hike and information. On to Franklin, NC just south of the Smoky Mountain National Park. We plan to ride the Deal's Gap, Tail of the Dragon, ride tomorrow before the rain sets back in. This is a very famous motorcycle road in America that contains 318 curves in 11 miles.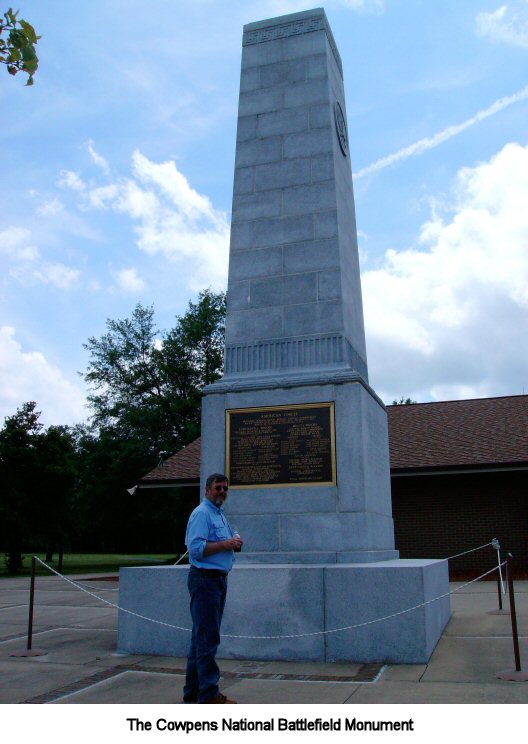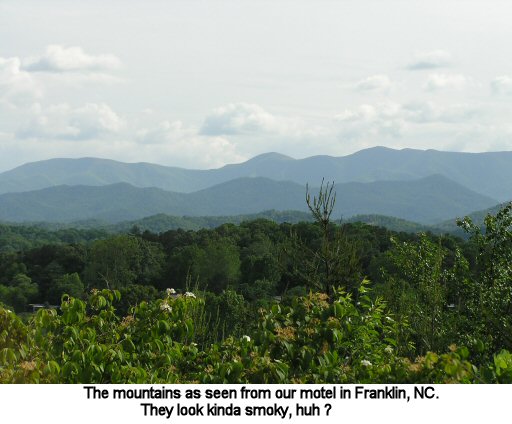 Day 15, 182 miles/3444 total Conquered the 'Tail of the Dragon' .... said to be the #1 motorcycle road in the US. It was really fun....Kathleen said she didn't even hold on with that 'death grip' she uses sometimes. Spent the whole day in the Smoky Mountain National Park and ended up in Townsend, Tn for the night. We will spend a 2nd day in the park tomorrow before heading west....back towards home on Monday. There is 1 more 'special' road, the Cherohala Skyway, that we plan to ride on our way out of the area towards Murfreesboro, TN.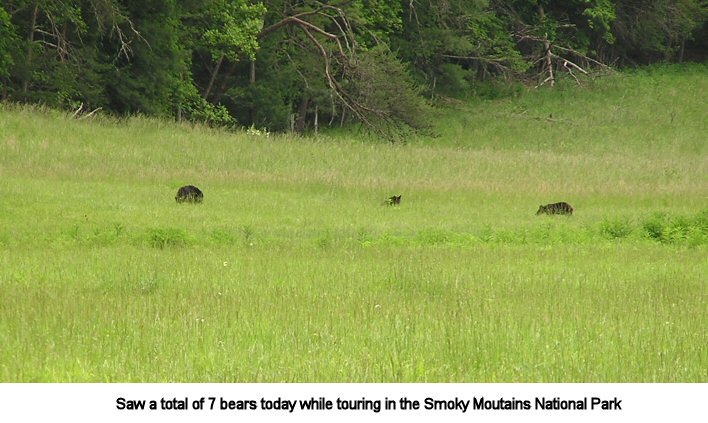 Day 16, 185 miles/3629 total Very wet....but fun day. We spent all day in the Smoky Moutain National Park. There was a light rain when we woke and still when we left. The "smoke" was Very Heavy in the moutains today. Even tho' the roads were wet....the rides were great. The bike did fine in the curves on the wet pavement. Disappointing that the peak at Clingman's Dome, 6643 feet was totally covered with 0 visiblity. It was a nice ride...then hike....but not much to see thru the clouds. We drove around the park all day....the visibility and rain changed almost minute by minute. We took a few steps on the Appalachian Trail, just to say we did. At Cherokee, at the foot of the mountains, just outside the park was dry and sunny. It amazed us at what 20 miles and 4000 feet in elevation did to the weather.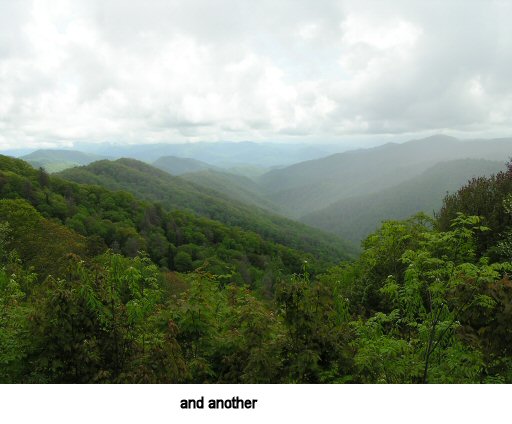 Day 17, 228 miles/3857 total Headed west....not sure how long the westward journey is going to take....will be trying to dodge storms once checking weather each morning. We journeyed across the Cherohala Skyway today ( it is much like the Talimena Drive only higher elevations ) the weather, ride, and view were spectacular. I did 'dump' the bike coming into a parking area.....really ticks me off to do that....no damage to the bike or us...just my pride bruised a bit (did that once last year too on the California trip). Did find the online photos that several guys take of those riding the "Tail of the Dragon" ride. I'll post some below. We have stopped in McMinville, Tn for the night.....our butts are tired.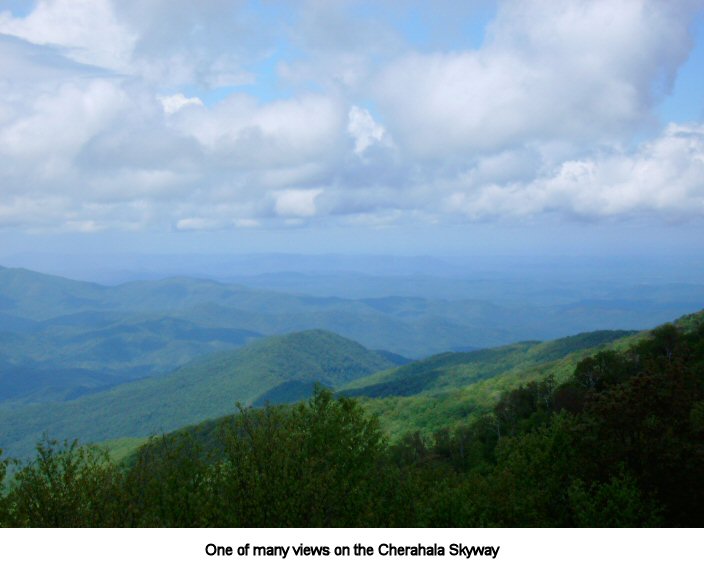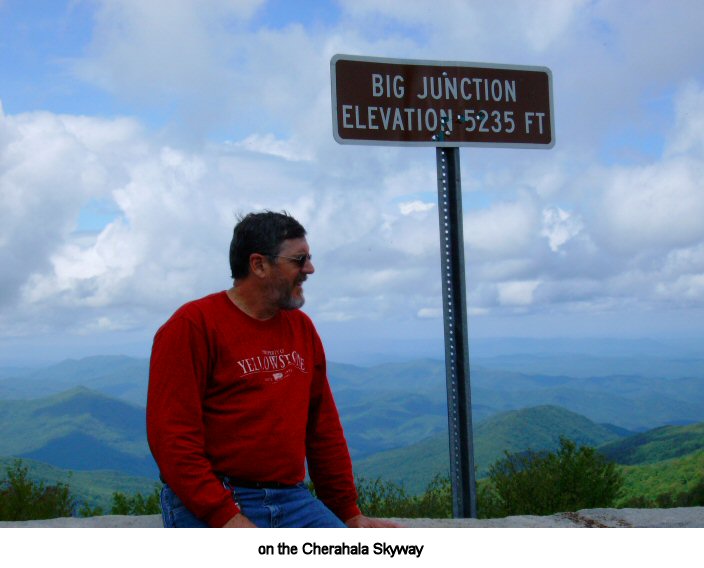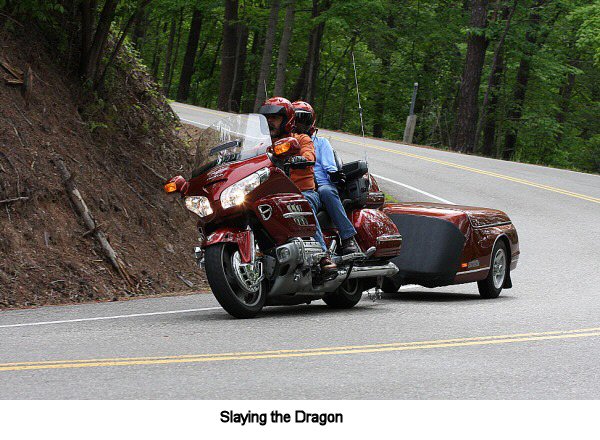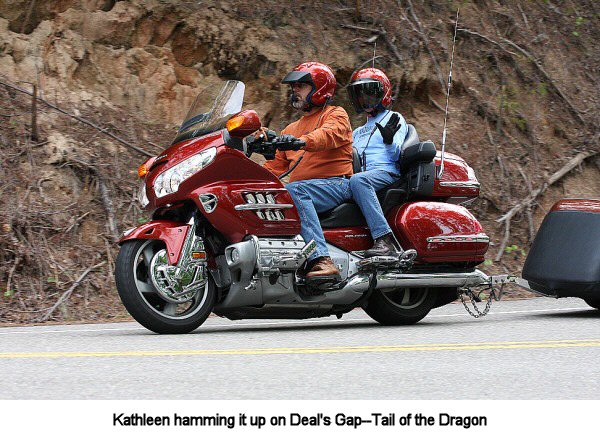 Day 18, 265 miles/4122 total Landed in Tupelo, Ms for the night. Stopped just short of a line of thunderstorms. We have enjoyed going down the historical Natchez Trace Parkway today. A really nice road with lots of historical stops, low traffic, and beautiful scenary.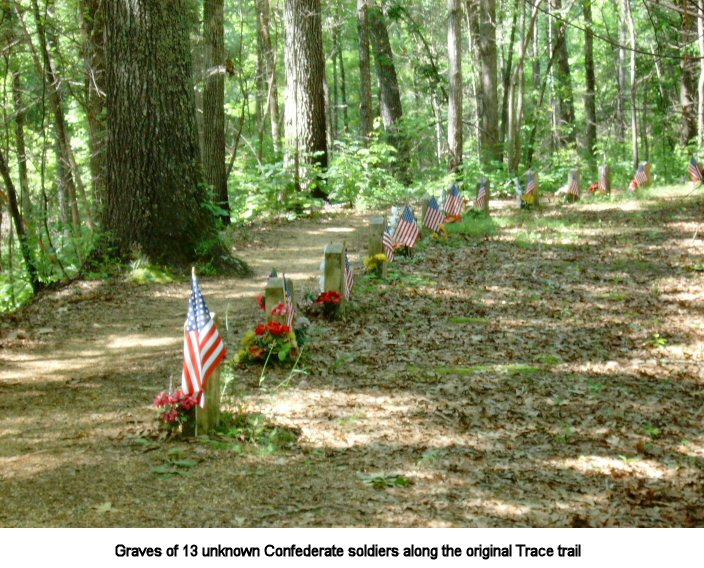 Day 19, 364 miles/4486 total We traveled down the Trace until reaching Mathiston, MS. then turned west towards Arkansas. Crossed the Mississippi, this time via bridge (ferry the first time). We traveled the old bridge but right next to the new bridge that is yet to open. It was really a sight to see....could be seen for miles before reaching it. We headed towards Hot Springs but decided to stop for the night just short of it at Camden, Ar. Kathleen was a little sad that she did not get to wear her favorite outfit today, the rain suit. We did get wet briefly as we 'dove' thru a building thunderstorm and got to the dry side before it got it's act together. Weather looks good from here on in now.