October'10 trip thru NE Oklahoma, the Ozarks and SE Oklahoma to see some "dam" fall colors
The route of our Fall Foliage Trip, October 20-24, 2010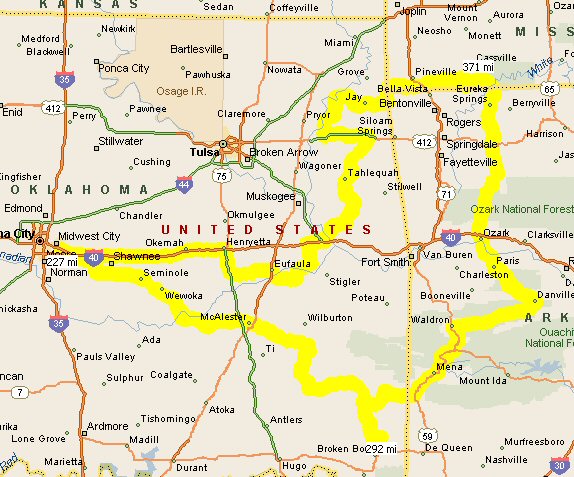 This year we combined our fall foliage tour of the Ozarks and SE Oklahoma with the "Dam Tour" we are participating in, sponsored by Oklahoma Honda. We are to visit and document about 13 dams at designated Oklahoma lakes....this trip we plan on visiting 6 of those designated dams. It was a 'dam good' ride.

Our first dam was Eufaula Dam. I got off work at 2pm and we headed east on I-40......we planned to do a late lunch/early dinner at one of our favorite places to eat....the PigOut Palace in Henryetta, OK. Made to Eufaula dam and on to our destination for the night, Marvel Resort near Gore, OK. We had reservations in a quaint little cabin on the Illinois River.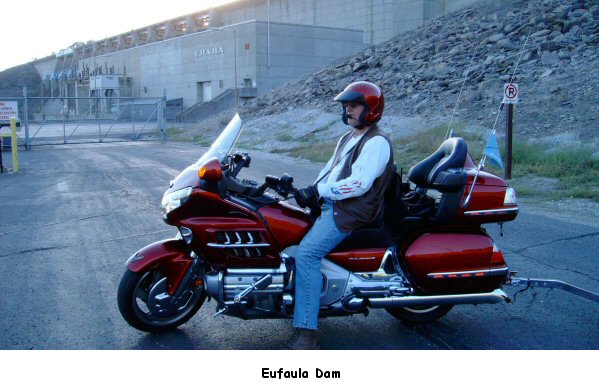 Day 2-- after trout fishing for a bit in the Illinois river ( didn't catch anything ) we headed toward Lake Tenkiller and a dam picture. The drive on the east side of Tenkiller was not as beautiful on last year's fall tour. We were a little early for the best colors in this area this year ...until we got along the upper Illiois River , Hwy 10 near Tahlequah. Then on up to Spavinaw Dam and Pensacola Dam. The weather is absolutely perfect and the colors amazing. We made our way NE towards Noel, Missouri where we caught HWY 90 east to our evening destination of Roaring River State Park. Hwy 90 was absolutely a wonderful curvey motorcycle road thru some fabulous fall colors. We have made a note that this road is a MUST DO, every fall. The colors in Roaring River were near perfect.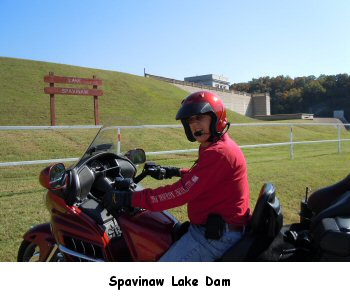 Day 3-- Headed south to catch "the Pig Trail" thru Eureka Springs and south thru the Boston Mountains......absolutely gorgeous.....sorry we didn't use the cameras much....we were enjoying the scenary too much. Again, one of America's best motorcycle roads, especially in the fall season. We were to stop in Clarkesville for the night....but checking the weather and the incoming storm....we decided we needed to get more miles in.....making the next day a little shorter. Stopped along the road and called Magazine Mountain Lodge for reservations in southern Arkansas and canceled the Clarkesville ones.....great decision. We got to Magazine Mountain before the storms and were pleased to learn they were having a "Merry Minis" convention. Took a hike up to the highest point in Arkansas.....Mini-Cooper cars. Fell in love with the Mini's....may have to get one someday. Took a hike up to the highest point in Arkansas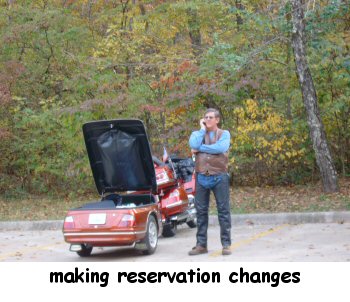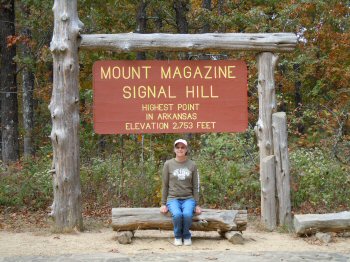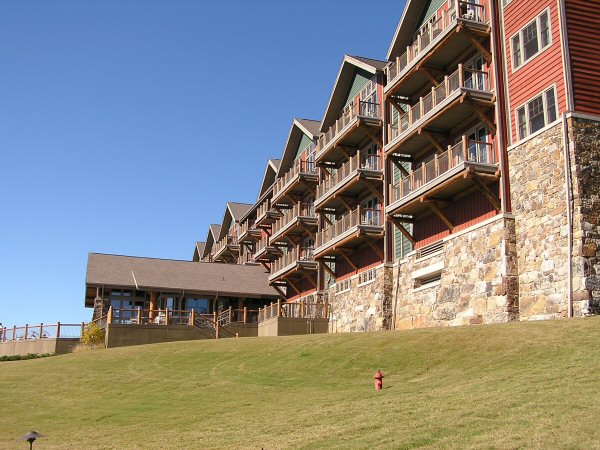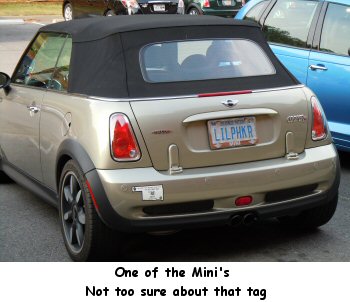 Day 4-- headed to Mena, Ark...got there around lunch time and while we dined....the rain poured down....finished lunch and the rain quit too....we made it on to Broken Bow Lake and spent the night in Hochatown. Again....arrived in Hochaton just before the rain.....and it poured all night. We sure have been lucky missing the wet weather while on the bike this trip.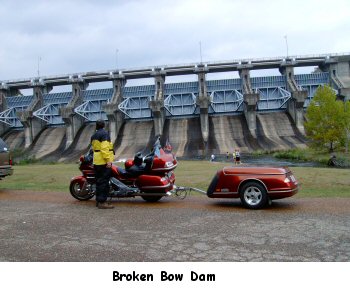 Day 5-- headed towards home via Sardis Lake. It was very foggy in the morning.....we were in really remote areas and had to watch closely for deer and Big Foot ( near Honobia ). We arrived home to learn the goat due to have babies kept her legs crossed and all was well !!!

TynyŽ home page