Our route for this vacation takes us approximately 6000 miles. Starting north to Mt Rushmore, turning west to Yellowstone, Crater Lake in Oregon, Redwood Forest in California, back east to Zion NP and the Grand Canyon, Durango, Colorado, and Red River NM.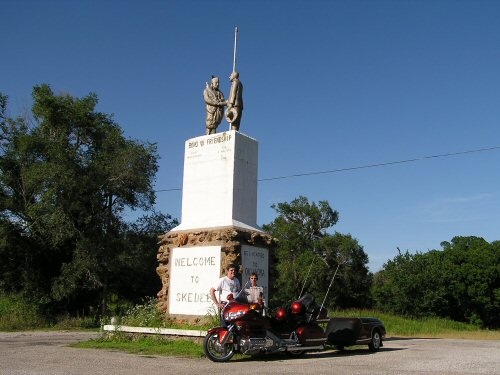 Day 1...128 miles....starting out, our intention was to satisfy 2 'targets' for the Grand Tour Oklahoma at Skeedee, OK and Stillwater, OK. Our neighbors video taped our departure ( don't suppose they were thinking we'd never return ? ) We dodged 2 goats that seemed to find their way onto the highway near Skeedee. Ended up in Stillwater and ate at our favorite BBQ place, Bad Brads.
Day 2...420 miles... our 'target' for the day was Boise, OK. We stopped by Enid on our way down Hwy 412 to have breakfast with Tony and his girlfriend Ryan and her dad Jerry. After having left Enid we stopped for a few minutes at the Glass Mountain State Park. Not much to see there other than the sign to watch out for rattlesnakes. We arrived in Boise with some extra daylight so decided to check out Black Mesa State Park a few miles away......not all that impressive...it was very hot and a LOT of cows....most on the road to be dodged.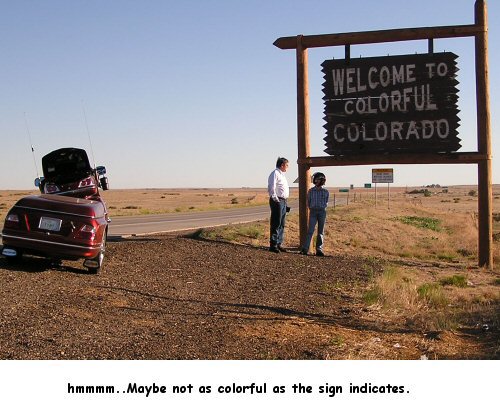 Day 3...433 miles...This was mostly a 'travel day' to get some miles behind us. Left Boise City, OK at 7:30am north on Hwy 385. Into Colorado and then Nebraska. We were surprised by the severe drought in Colorado. We landed in Bridgeport, Neb for the night. Met an unusual character, Harley rider, at dinner.....so unusual....we snuck out of town very early the next morning. Met some very nice Harley riders next door in our motel. They were from Loveland, Co.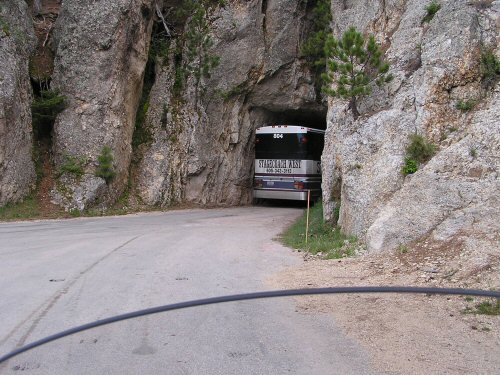 Day 4...234 miles... What a day !! we left Bridgeport around 7am, continuing north on hwy 385. Had breakfast in Alliance, Neb. The terrain is changing with lots of wheat fields, open pasture, and bluffs.....very pretty scenery. The mountains are now on the horizon. Having reached Hot Springs we turned onto WY 87 thru Wind Cave and Custer State Park. We saw lots of buffalo, antelope, deer, and even a wild turkey. Turned onto one of our 'targets' for the trip....the Needles Highway. Bad news....road construction.....oil and chip....we drove very slowly in the 'follow the leader' construction area UNTIL....it began HAILING. We didn't have time to do anything other than pull off the road a little. It was golfball-size hail. Kathleen jumped off the bike and yelled "I'm gonna hug a tree". But Jay, a road crew worker pulled up and invited us into the cab of his pickup. We sat there for 10-15 minutes watching the bike get pelted. Kathleen got 4 or 5 big bruises on ther shoulder, arms, and back from the hail.Luckily, the bike and trailer seemed to have survived with no damage. Otherwise, the Needles highway drive was very scenic and fun......tunnels..... "P" shaped turns ( first time I ever saw a road sign showing the curve a head in the shape of a "P"). We ended up at a KOA Kamping Kabin in Hill City, SD.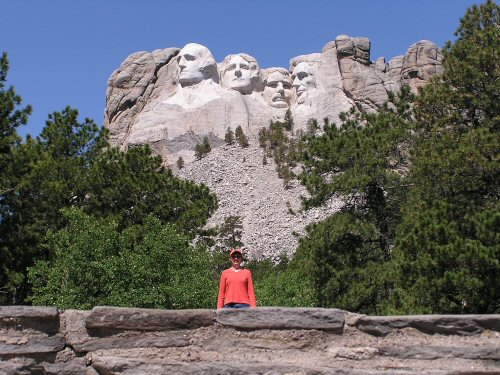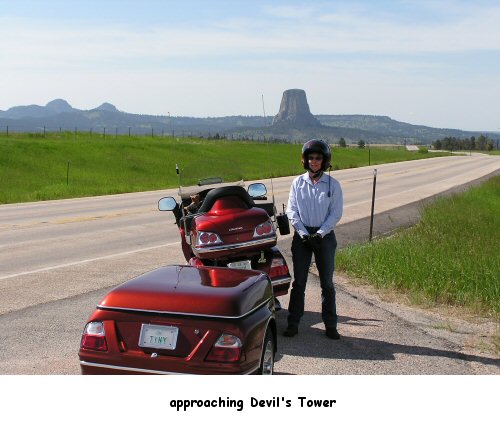 Day 5...180 miles...Road to Mt Rushmore. Enjoyed a couple of hours there....seeing the monument, hiking some trails. Cruised towards and thru Deadwood then we headed down the beautiful ride thru Spearfish Canyon along the Spearfish Creek. We found a carwash in Spearfish for the bike. The hail storm had deposited pine tree pollen in every crevice on the bike....it was 'nasty'.....I just couldn't take it any more. Made our way on to Devil's Tower National Monument. It is much more magnificent than you first think. The KOA that we stayed show the movie "Close Encounters" every night ( the movie that Devil's Tower starred in ) We learned this was the the FIRST National Monument in the US, dedicated by President Theodore Roosevelt. Pres. Roosevelt is becoming a real hero to Kathleen and I. The past 2 years ( last years trip to DC ) we have learned so much that he did to preserve our country's natural beauty and animals.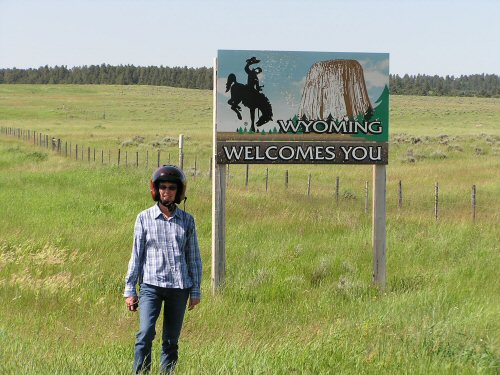 Day 6...364 miles...We took Hwy 112 from Wyoming to Montana then caught Hwy 212 west to I-90. We were amazed and all the yellow clover in full bloom. In some places the rolling hills were totally covered with the clover and that is all you could see....as far as you could see. I really wish I had my bees there !!! We were lucky and caught the weather right without much crosswind that we were anticipating. As we approached the I-90 interstate in the Big Horn area of Wyoming we began to see LOTS of Indians on horseback :-/ We stopped at Crow Agency for gas and learned that they were gathering for a Custer's Last Stand reenactment in a couple of days. We arrived in Red Lodge, Mt and stayed at the Alpine Lodge. Lots of snow can be seen in the mountains where Red Lodge sits at the base of.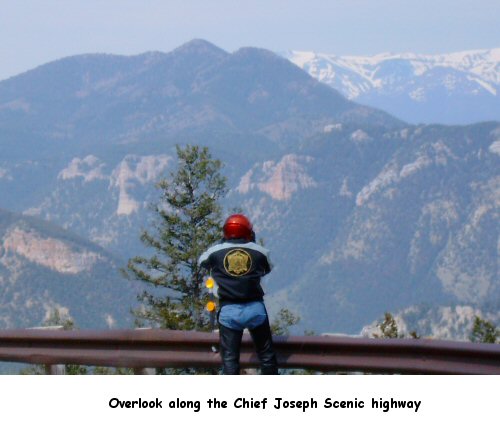 Day 7...206 miles...There was a big storm the night at Red Lodge. There was a big tent that blew thru the parking lot of our motel.....luckily it missed the bike. Since we could see rain clouds on the mountain pass ( Beartooth Pass--Beartooth Highway--another 'target' of our trip ) we decided to postpone the trip over the pass for a day since we'll still be in the area in Yellowstone. Maybe the view will be better with better weather. So, we detoured around the mountain/pass and took a wonderful ride....just by accident....the Chief Joseph Scenic Highway into Yellowstone. Beautiful scenery and lots of twisties. As we entered Yellowstone we saw Elk, lots of buffalo, and a bear......it was the color of a grizzly but may have been a black bear ( they are that color, too, sometimes ). We had reservations at a cabin in the Canyon area of Yellowstone.....very rustic and old...appeared to have been built in the 1950's by the furnishings, etc.
Day 8...238 miles...Headed back for the Beartooth Pass adventure. We actually went over a couple of passes ( Dunraven Pass, 8859 ft and Craig Pass, 8262 ft ) getting back to the Beartooth Highway. It was a wonderful ride. Beartooth was awesome...beautiful scenery....the higher we got the more snow. Towards the top there were 10 ft snow walls on either side of the road where the road had been cleared. The lakes at the summit were still frozen over but beginning to thaw. Snowmobile tracks could still be seen going over the frozen lakes. Got to the summit at 10,947ft then back tracked to the Top of the World store a short distance from the summit. Bought some t-shirts and patches to prove we'd done the Beartooth and headed back to Yellowstone. Cruised Yellowstone on the return trip we saw a moose and her baby and almost hit a buffalo that stepped out in front of us from behind a car. Got to our reservation at the Old Faithful Lodge Cabin. Cabin there was somewhat nicer than the Canyon area cabins.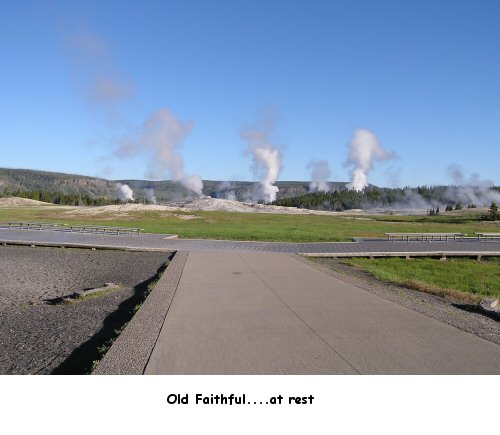 Day 9...226 miles...We slept in a bit today then took a good long hike to the Morning Glory Pool in the geyser area. Packed the bike and trailer and head out the west side of Yellowstone. Saw a bald eagle in a tree along the way. We detoured down the Mesa Falls Scenic highway from a 'tip' from another biker pair we saw a couple of days earlier. It was a nice drive to the beautiful Mesa Falls. The falls are on the Henry Ford's Snake River. We continued on to and thru Idaho Falls to our destination target for the night at the KOA in Arco, Idaho. We DID get some ice cream in Idaho Falls before heading into the desert area......that was a mistake. It was a VERY hot and bumpy ride....road construction had us stopped in the heat.....both of us were getting nauseous ( must have been some bad ice cream ). Just let me say....Kathleen was never so happy to see a porta-potty at a construction site in all her life !!!!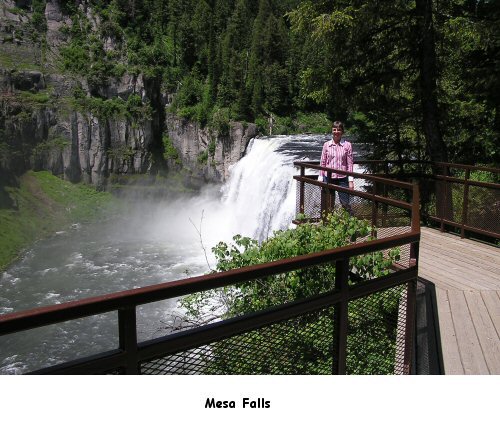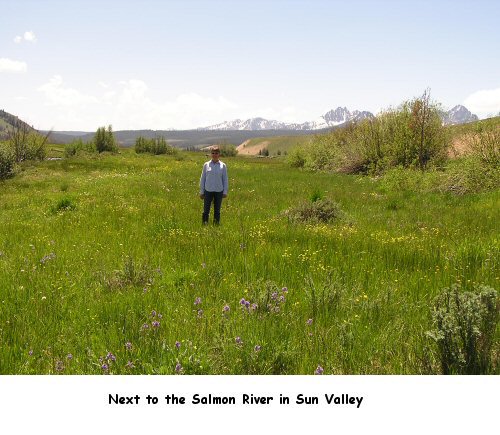 Day 10...342 miles...We had breakfast at Pickles and met another Goldwing riding couple from Iowa heading in the opposite direction as us. They gave us some tips on a route to take to get us out of the record heat in the area. We drove by/thru the Craters of the Moon National Monument....lots of lava, very desolate. We headed north on Hwy 75 through Sun Valley. A very pretty drive along the Salmon River. We ended up on Hwy 21....a wonderful motorcycle road thru the Sawtooth National Forest and the Boise National Forest along the beautiful Payette River. Saw lots of Kayakers and float trippers enjoying the river and it's rapids.We arrived in Ontario, Or for the night.....they were having record heat at 104 degrees.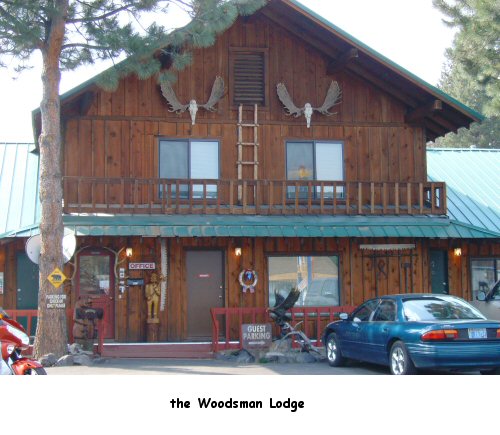 Day 11...353 miles...Headed towards Crater Lake by 8am. We were surprised by all the sage brush and desolate hills. Not at all what we were expecting from Oregon scenery. Finally got into some high country with lots of huge pine trees.....more what we expected. Saw a lot of stuff ( town, river, fossil areas ) named after some guy named John Day...???? A lot of twisties, fun ride. We ended up in Crescent, Or for the night at a very nice Woodsman Lodge. Kathleen was taking pictures of all the decor it was so unique. We are beginning to see alot of haze, probably from all the fires in California. We are hoping the fires do not alter our plans. We are looking at alternate routes home in case they do.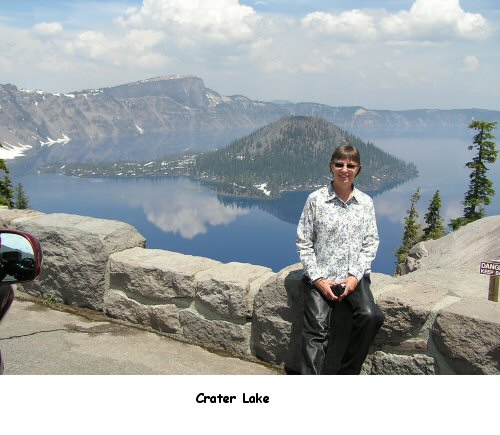 Day 12...235 miles...Left Woodsman Lodge around 8am and found "Best food on Highway 97" cafe in Chumalt, OR for breakfast.....really was pretty good. Traveled along Hwy 138 to Crater Lake National Park. It was an awesome ride, lots of forest and twisties. Crater lake is GORGEOUS. We watched a film at the visitors center telling of the 500 inches of snow removed from the roads each year. It takes 4 months each spring to clear the roads. We were there on July 1st and they were only 1/2 done so far ....the east rim road is still closed. We stayed 3 or 4 hours....as the day progressed the haze lifted and we got a much better view of the lake and beautiful reflections. If you visit the pictures we took....the volcano cone in the background sitting in the lake is actually 2 miles away. We headed on to Myrtle Point, Or for the night.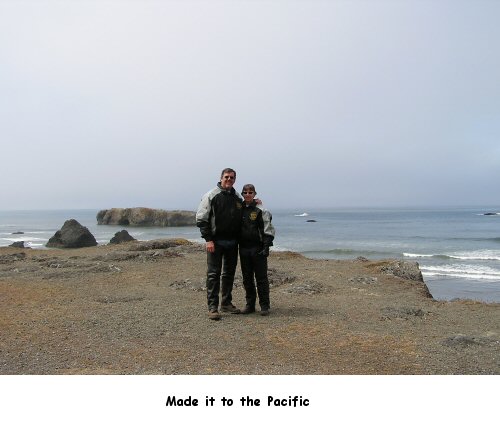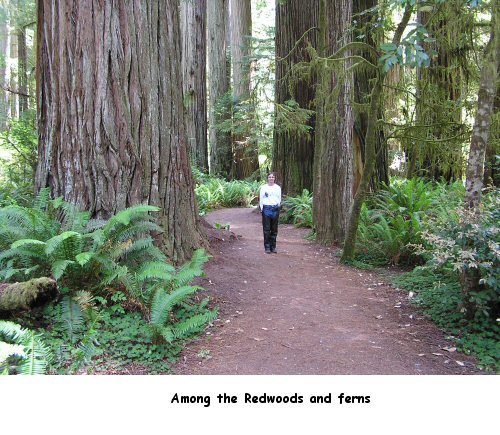 Day 13...253 miles...Headed towards the Pacific Ocean and found it at Bandon, Or. We stopped at the port and various view points along the coast. The fog was fairly heavy. We got 'frisked' for fruit as we crossed into California. We were allowed to keep the handful of Ranier Cherries that he found in our ice chest...once we had promised to eat them before the day was over. We found the Redwoods and hiked among them in the Simpson Reed Grove. The trees and ferns are just awesome....words can hardly describe them. We drove down the beautiful Drury Scenic Highway among the redwoods. We ended up staying the night at Crescent Beach Motel and had a WONDERFUL dinner at the restaurant next door.....fabulous menu and food. We walked the beach and found a bunch of sand dollars on the beach to bring home ( we worked hard the rest of the trip to keep them from stinking up the trailer )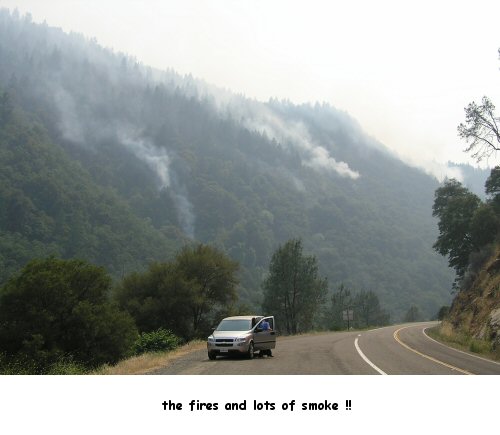 Day 14...237 miles...before leaving the Crescent Beach Motel we took another walk along the beach and went to the pier for breakfast and watched boats coming and going while we ate. We drove back thru the Drury Scenic Highway and took the turn off to the Lady Bird Johnson Grove of redwoods. It was a 15% grade !! We then headed down Hwy 101 to Arcata where we caught Hwy 299 towards Redding, CA ( our target for the night ). Hwy 299 was closed earlier for the fires but was back open now. There were lots of twisties and a beautiful river, however, there were also lots of fire trucks, fire camps, and crews still working. The smoke was a little heavy at times. We arrived in Redding and chose poorly for our motel for the night....a little scary....and we were happy to get out of there with our lives by the next morning.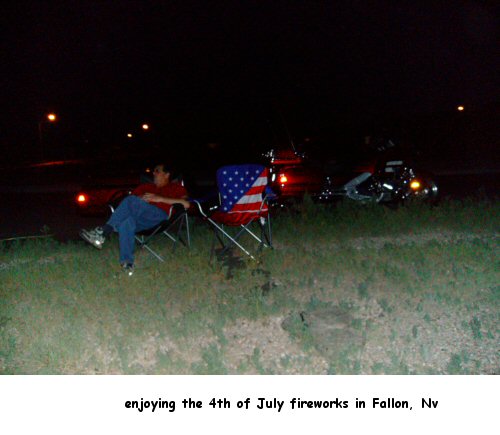 Day 15...277 miles...Got up early to get the heck out of dodge ( Redding ). Had breakfast at IHOP and headed down Hwy 44 towards Susanville. A very nice ride...lots of twisties. We continued down Hwy 395 to Reno, NV then on to Fallon,NV for the night. We stopped early so we could do a little laundry and enjoy the pool. Had a wonderful dinner at a Mexican restaurant called La Fiesta. Since it is the 4th of July we headed out east of town a bit and got to enjoy Fallon's firework display. We discovered that Fallon is the home of Fallon Naval Air Station, home of the Top Gun school for the Naval Air pilots. We actually drove next to their bombing range as we left Fallon.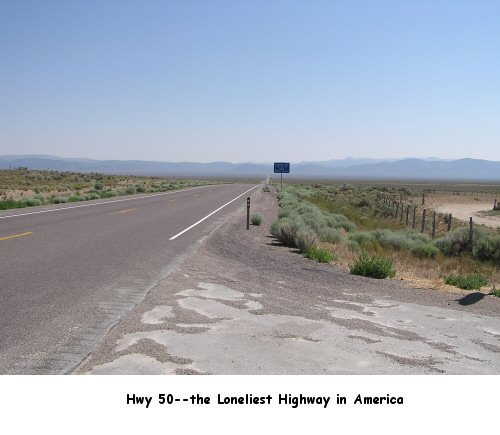 Day 16...489 miles...We decided to get up early and hit Hwy 50, the Loneliest Highway in America, before it heated up. We left at 6:20am. We were pleasantly surprised...temps in the 60's and 70's most of the ride....no heat....no cars....no semis....just a wonderful ride. We arrived at our 'target', Ely, NV, very early and decided to continue on to Cedar City, UT. Headed down Hwy 21....and we paid for the earlier cool ride. It was HOT....winds gusting to 60+mph.....gust-nados.....we are in the Great Basin desert !! Kathleen is holding on for dear life....finally got rained on a bit and arrived at the Cedar City KOA. There were no cabins so we are doing plan C ( the tent ) for the first time.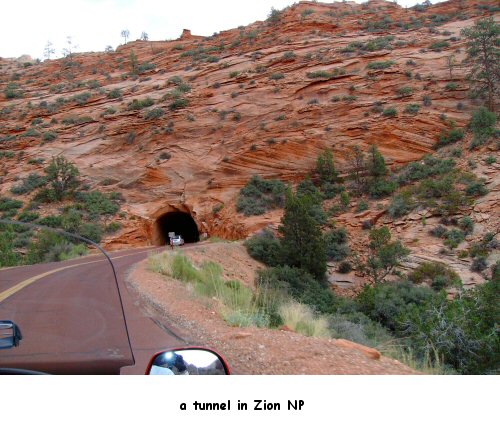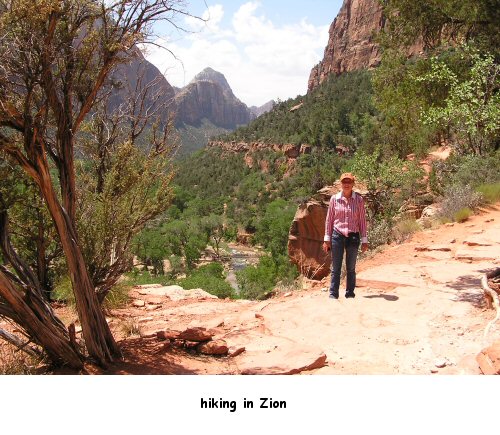 Day 17...161 miles...Slept in a bit today then headed down I-15 towards Zion National Park. We enjoyed hiking and seeing Zion most of the day. The ride out thru the east entrance/exit is spectacular. So glad we left that direction. Headed back towards Cedar City but took Scenic Route 14....what a surprise !! What a great road !! beautiful Aspen groves growing right out of black lava flows. There is an overlook at 10,000 ft that overlooks the Zion National Park Canyon.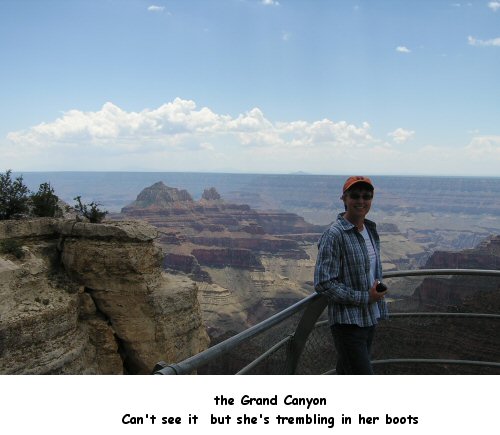 Day 18...250 miles...Headed back thru Scenic Route 14 towards the north rim of the Grand Canyon. We were amazed at how different the drive to the north rim is so different than the south rim. Mountain and forested area all the way to the rim. The overlooks were very feet-tingling and spectacular. Stayed at the very rustic Jacob Lake lodge.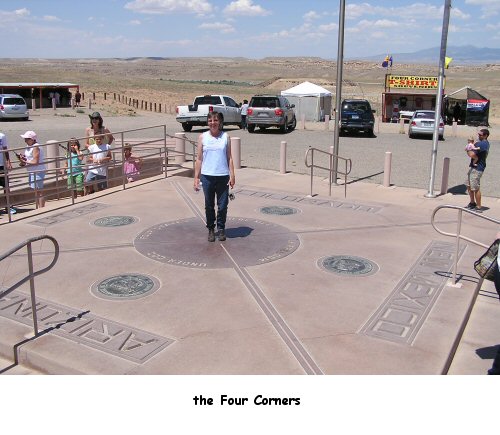 Day 19...369 miles...Ate breakfast at Jacob Lake and headed towards Durango, Co. Drove thru miles and miles of cliffs and sage brush. Fairly heavy traffic today. We stopped at the Four Corners Monument...a Navajo trap !!! Ended up at the Durango KOA. We were very disappointed by the heavy traffic in Durango and all the commercialization and have decided to not stay the intended 2 nights there.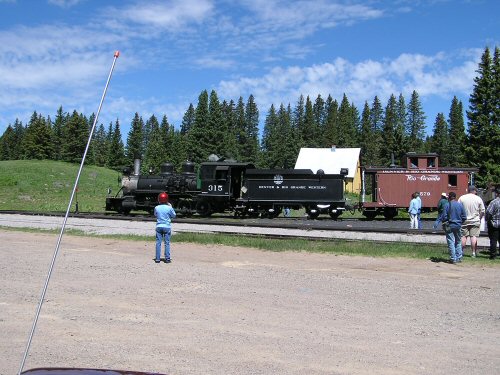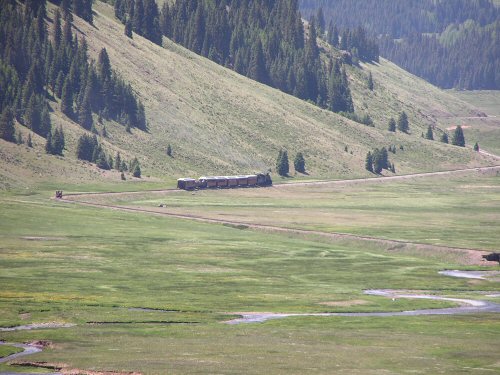 Day 20...253 miles...Left Durando and headed towards Pagosa Springs....a very nice town that we were impressed with. Continued on towards Chama, NM. As we headed up Cumbres Pass ( 10,022 ft ) we came across a narrow gauge train beginning it's voyage down the mountain....what a treat. Stopped for pictures and a brief rest. As we continued....we ran across another narrow gauge train loaded with people snaking it's way thru an area called Tranquil Meadows. We continued on thru LaManga Pass at 10,230 ft. We traveled thru San Luis and had a wonderful lunch at a sandwich stop there in town......on to Red River where we got a nice room in the Riverside Lodge.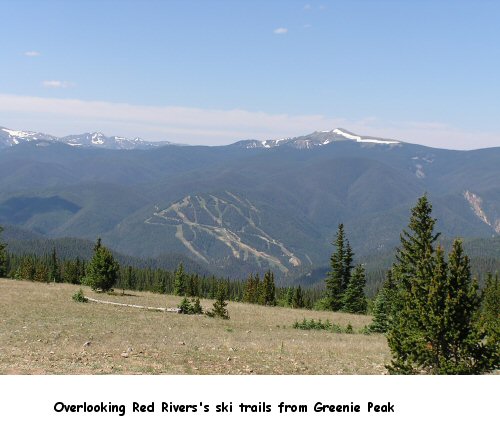 Day 21...3 miles...Stayed in Red River. Red River is still the quaint, family oriented town we remembered. We stayed 2 nights and enjoyed a jeep trip up to Greenie Peak, enjoyed a nice dinner at Texas Red's Steakhouse, listened to a fantastic guitarist/singer at the community center, rode the ski lift to the top and had lunch at the Tip Restaurant. This was a very restful stop over before our 500 mile long hot trek on home.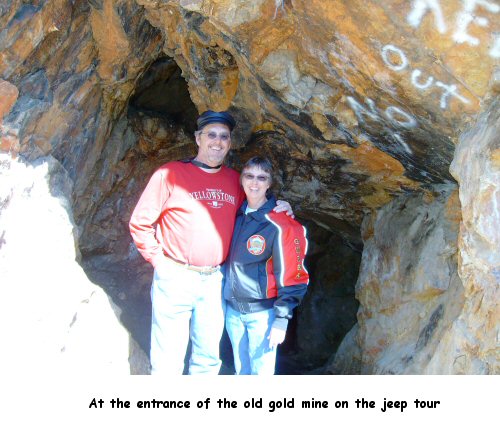 Day 22...398 miles...Headed towards Cimarron, NM. It was a very cool morning and beautiful drive lots of hill, twisties, etc. Once we got east of Cimarron it started getting hot and WINDY. Saw lots of Pronghorn Antelope. The crosswinds in the Oklahoma Panhandle WORE US OUT !! We arrived in Woodward, OK and decided to recuperate at the NW Inn with a good swim and nights rest. We had previously noticed in Red River that the tire on the right side of the trailer had worn ALL tread off and was basically 'slick'. This was very troubling since the trailer and tires were brand new when we left on the trip. Also the left side tire was not worn....something is amiss with the trailer or tire. We purchased a spare to haul on home with us just in case.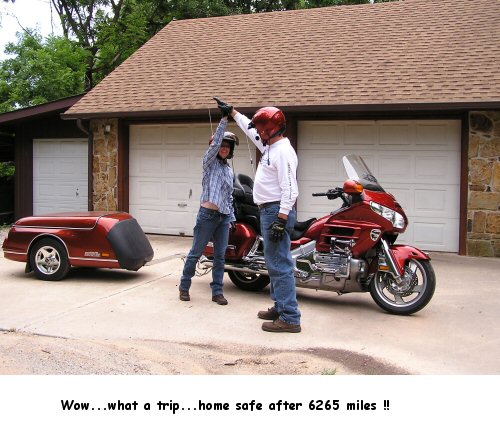 Day 23...180 miles...Still a very windy ride on towards home. We decided to stop at Ron's Trikes ( an Escapade dealer ) on the way home to have him look at the trailer tire issue. Ron was very nice and said something was probably wrong with the tire/wheel's balance and replaced the wheel and tire. We arrived home a short time later....in 1 piece !! 6265 miles !!!


TynyŽ home page
The TynyŽ Goat Ranch


Oklahoma City, Oklahoma