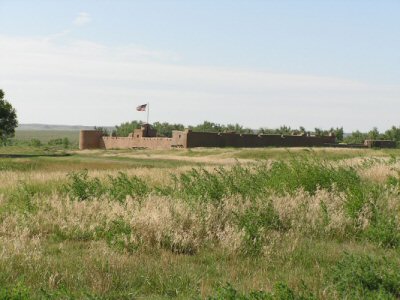 Fort Bent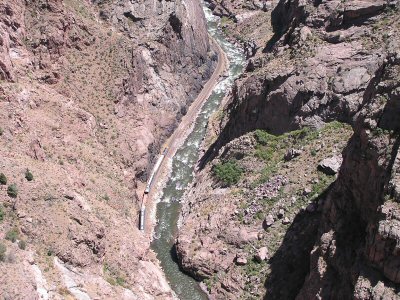 From the Royal Gorge bridge looking down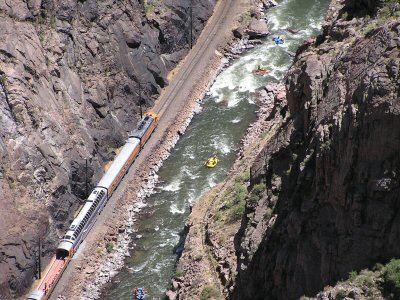 Same view, zoomed in 10X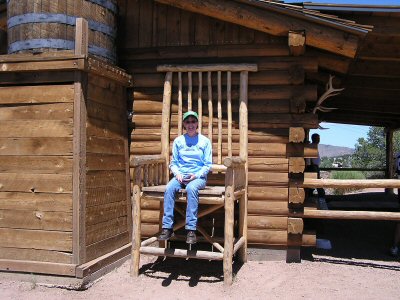 Lil' Kathleen taking a breather from all the hiking around the Royal Gorge


Day 3, 117 miles....808 total miles--
It was a relative short ride today but really nice. A lot of twisties and not very hot. We started a little later in the morning and went into Cripple Creek for breakfast......the best 49 cent breakfast I ever had. By the time we added OJ and Coffee our bill was $3.88 for the both of us at the Bronco Billys casino cafe. It included 2 eggs, omlet, hash browns, fruit, toast. I think they were just trying to get us in ....what do ya think? I felt so bad about the price I left the gal a $4 tip for that $3.88 breakfast. I then walked to the nearest slot machine and won $25......we left town. Rode to the Florissant Fossil Beds National Monument/Park. We enjoyed learning about the fossilized Redwood tree trunks and other fossils on the 1-mile, ranger-led hike. We rode on to Evergreen, Co near the base of Mt Evans for hopefully tomorrow's adventure up it. We did get to wear the rain gear some today and are hoping the skies will clear before our planned morning trip up Mt Evans.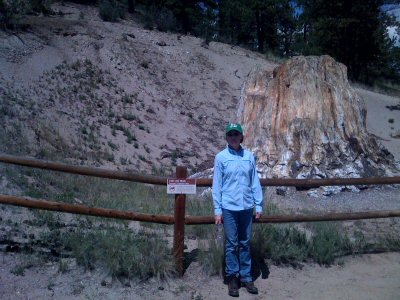 Petrified Redwood tree trunk at Florissant Fossil Beds National Monument
Day 4, 161 miles....969 total miles--
We left Evergreen, Co early... in the rain... hoping for a break in the weather. Didn't really want to go up that 14 mile, treacherous road to the top in the rain. The Squaw Pass road was exciting in itself. When we got to the base of Mt Evans, we asked the attendant what the conditions were at the top and what were the 'turn-around' points. It was rain free at the moment at the top, she said. But it could change in an instant. The first turn around was at mile marker 3, then mile marker 5, and the last was at mile marker 9......after that you had to go to the top. We made it to mile 9 at Summit Lake....walked around a bit ( the wildflowers were awesome ) and decided to head back down due to the threatening looking clouds. Drove down 4 miles to the mile-5 pullout and noticed the weather was clearing a bit at the top of the mountain. Told Kathleen, "Lets go for it. We can't come this close and not do it. So we turned around and went all the way to the top. It was exhilarating....to put it mildly. So, instead of 28 miles up and down Mt. Evans....we did 36! The picture below, of part of the road, was taken from the top and doesn't really show the very steep, narrow switchbacks.....however, we did see a crazy guy taking a 21 foot RV up there....he made it, too....it was a rented RV of course!! I asked Kathleen at anytime of the day did she have her eyes closed back there....she said, No...and was happy we decided to go back up. Then we headed to Estes Park thru the very quaint town of Idaho Springs where we sat eating lunch watching the rafters going down the stream. On the way to Estes Park we ran into a brief thunderstorm....with lightening hitting all around us. There was nowhere to go other than continue......that was a little unnerving. All is well that ends well.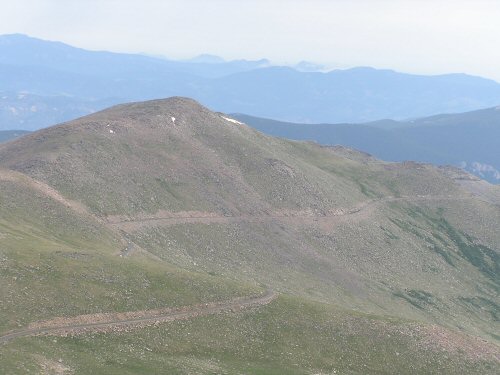 Part of the road up Mt Evans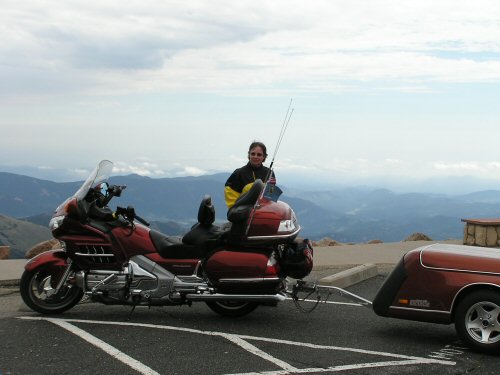 At the TOP !! 38 degrees with windchill of 32...July 28,2010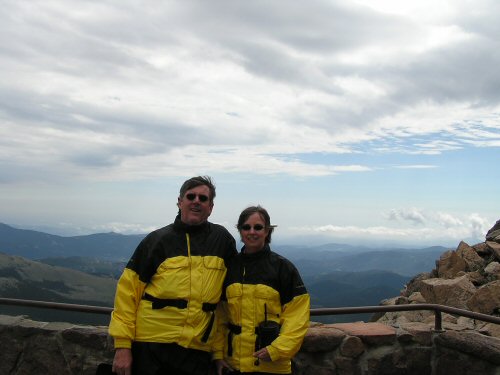 at the top
Summit Lake at mile 9
some of the wildflowers in the Summit Lake area
Day 5, 48 miles....1017 total miles--
Didn't make many miles today...this was an "enjoy Rocky Mountain National Park" day. We rode Trail Ridge Road from the east side of the park all the way across the park to the SW entrance and then down to Grand Lake where we stopped for the day. Trail Ridge Road is the highest continuous road in America at 12,183 feet. Didn't know my Goldwing needed an altimeter...it wasn't an option when I bought the bike. We took a hike near that elevation to get some awesome pictures. Besides scenery we saw lots of Elk, Pika, and Yellow-bellied Marmot....no bears. We did make it to Grand Lake before the evening storms set in as they have most everyday. Grand Lake is a quaint little town that we really enjoyed....a main street with a boardwalk to lots of little shops, restaurants, bars, etc. Reminded us a lot of Eureka Springs....just not as big. Estes Park was similar but much larger and much more commercialized. You could spend a week in Estes Park but Grand Lake was more our style.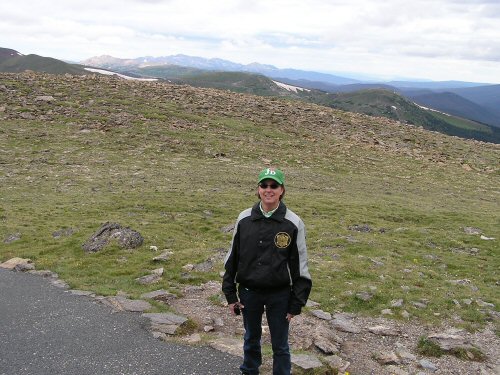 one of the many views at 12K feet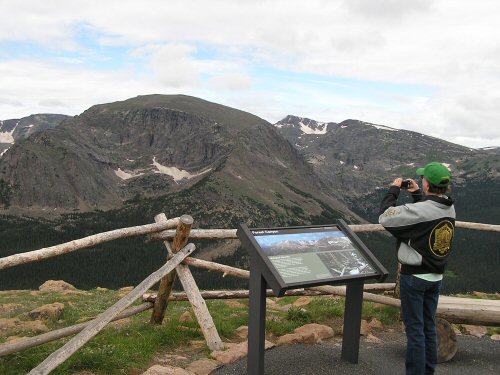 another..easy hiking for us "flat landers"
The road thru the Tundra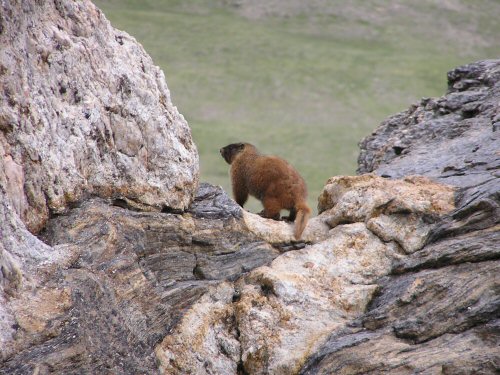 One of the marmots we saw
Day 6, 333 miles....1350 total miles--
Today was mostly a travel day ( as is tomorrow ). We did have a wonderful scenic ride thru all kinds of ecosystems. We started the day at Grand Lake @ 52 degrees. Headed north on a road that followed a stream thru the Arapaho National Forest. There were signs warning of Moose. It looked like the perfect habitat (like we'd seen at Yellowstone 2 years ago ) for moose but we never saw one.....probably passed a gazillion of them in the wet willows land along the stream. Then we passed into the high desert country of Wyoming, temps slowly elevated to 91....but it was a very wonderful ride. We stopped at "Split Rock National Monument". This was an unusual rock formation that early settlers used to mark the way along the Oregon Trail. It could be seen for a days travel east of the rock formation and for 2 days after passing it going west. We landed the wing in Riverton, Wy at the Hampton ( my personal favorite ) in time for a swim and dinner. Tomorrow we will be going thru Cody, Wy and on to Billings, Mt where we will be spending the night at the world's oldest ( the first ) KOA.


wide open spaces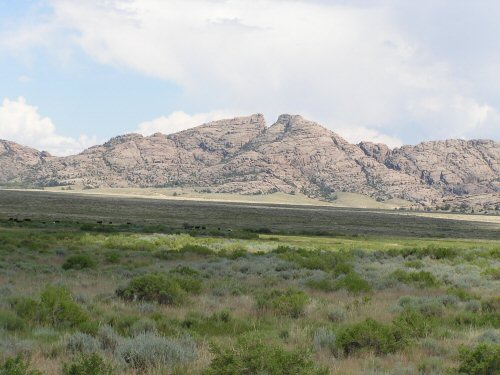 Split Rock...a formation used to guide settlers along the Oregon Trail
Day 7, 251 miles....1601 total miles--
Wyoming has to be one of our favorite states. There is a lot of desert...but it's beautiful desert and then there are places like we saw today. There is a lot of Majestic too. The pictures just don't do it justice. We also went thru a little town in Montana called Belfry.....of course their school mascot was the bat....the Belfry Bats!!. We kinda chuckled seeing the big bat over the school's entryway. Forgot to mention earlier....Billnotphil will appreciate that we went thru Sitka.......Sitka, KS, that is. We finally got into some temps like we hear are happening at home. It was 97 when we arrived in Billings. Staying at the KOA. This is the World's oldest...first...KOA and I have to say...it is one of the nicest we've ever been in. Target for tomorrow is Shelby, Mt. just east of Glacier Park.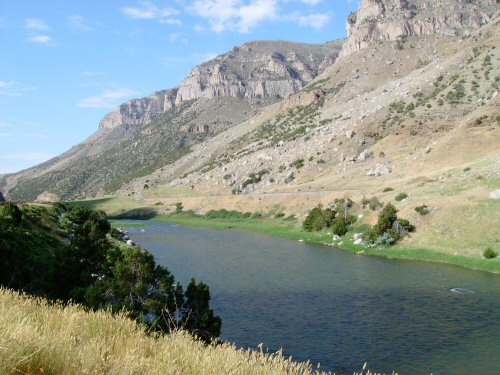 This is the road in the Wind River Indian Reservation between Riverton and Thermopolis, Wy. Absolutely gorgeous. The cliffs were huge. It was supposed to be a big-horn sheep area...but we didn't spot any. The railroad ran on one side of the river and the highway the other. There were also several tunnels we went thru. These are just a few of the 'treasures' you get by staying off the interstates when traveling. We have a ball....just driving thru the countryside.
our little home for the evening in Billings, Mt
Day 8, 319 miles....1920 total miles--
whoa....if you think Wyoming has some wide-open spaces....wait until Montana. The vast grasslands and huge sky. My minds eye could see millions of buffalo grazing thru the rolling grasslands ( must be my Cherokee blood ) where you could literally see millions of square miles. Sadly....we did not see a single buffalo. We made a run for it and dove between some thunderstorms and landed the wing at Shelby, Mt., just 30 miles south of Canada. This is the 3rd day we did not have to wear the raingear. Yeah ! Temperatures started the day at 70 degrees and ended around 75...... :-| sorry, heard it was a 100+ back there today.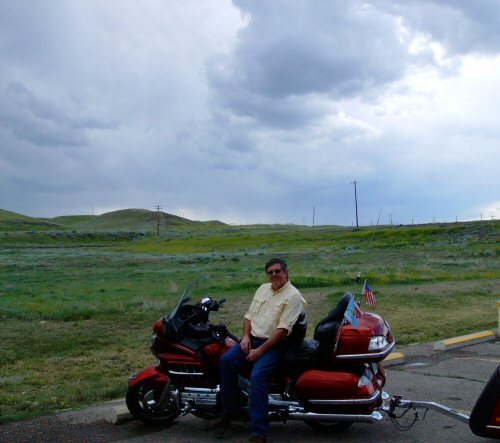 Arrived in Shelby, Mt, just ahead of the storms......was our buggiest day...took me a bit to clean the bike and get it covered before the storm.
Day 9, 177 miles....2097 total miles--
Wow.....what a day. It was a cool 59 degrees when we left Shelby, Mt at 8am. Drove the 70 or so miles thru Cut Bank and on to Glacier Park. We stopped at the "Goat Lick" area of the park to see some Mountain Goats ( high on my to do list for obvious reasons). We did see 4 or 5 goats from a distance. Drove on to the West Glacier area...at the Apgar center to get some hike information and have lunch. Headed up the Road to the Sun part way to take a hike. We will actually cross over the Road to the Sun tomorrow. We decided on a 2-mile hike...one way...4 miles total, with about a 500 ft elevation change....to Avalanche Lake. It was absolutely beautiful. The hike was not too bad going up, however, noticed a huge black cloud coming in over the mountain top and thought we'd better get started on the 2-mile trek back to the motorcycle. We made it about 100ft when it started to rain....then hail....rained the entire 2 miles back.. good grief...did I mention that we did not go prepared? No rain gear...cameras and cell phones in hand. To say the least...we were DRENCHED to the bone when we made it back to the bike. Did I mention that we left the helmets hanging upside down on the bike like we usually do......they had a water puddled in them. So....we put on our wet helmets ....a rain jacket over our soaked clothes and headed about 15 miles to the KOA....it was still 59 degrees....we were frozen by the time we got to the KOA....stood in the hot showers for about an hour.....had hardly rained at the KOA....but all in all...it was a good day.


Mountain Goats at the goat lick area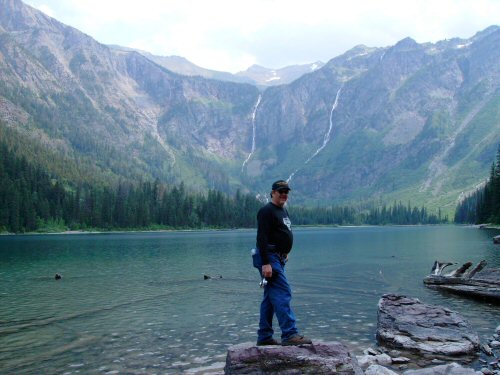 Avalanche lake with 2 of the 3 waterfalls ..... before we got rained on.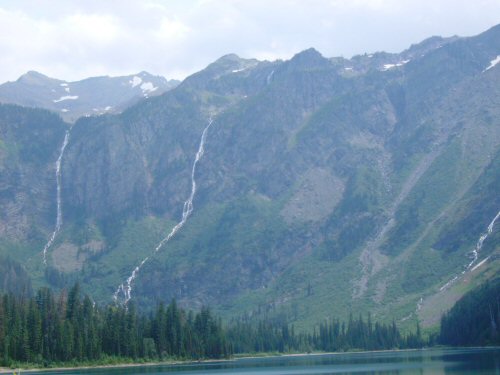 Zoomed in on the falls
Day 10, 105 miles....2202 total miles--
We took "The Road to the Sun" across Glacier Park today. It goes up thru Logan Pass. It should have been renamed for today to "The Road into the Clouds" Today was a foggy, drizzily type day that we really couldn't see much while traversing the high, switchback road. Luckily we are going to be here a couple more days and have plans to go back over that 60-mile road at least once more. Once on the east side of the park we took an excursion to Many Glacier Lodge. This is the site of our 4-hour horse back ride tomorrow. Many Glacier Lodge is something to see. It was built in the 1930's and looks much like a Swiss Chalet. The construction and decor remind us a lot of the old Yellowstone Lodge. Temps were in the 50's all day.....hoping for a little sunshine tomorrow.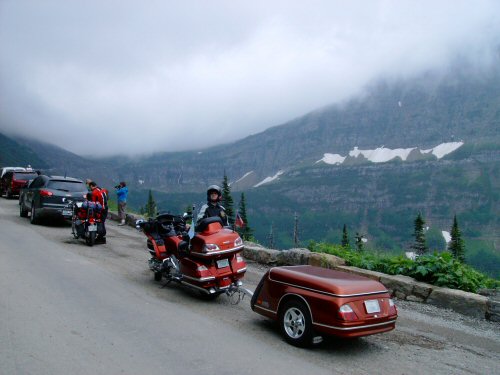 The Road to the Sun should have been renamed for the day to "The Road into the Clouds" We were stopped for road construction in this photo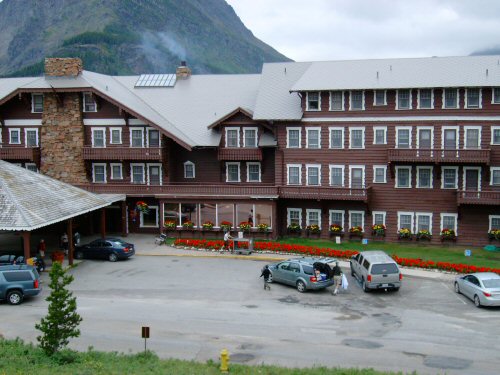 Many Glacier Lodge on east side of Glacier National Park
Day 11, 48 miles....2250 total miles--
Ok....not many miles today mainly because we had reservations to take a 1/2 day (4 hour--12 miles ) horseback ride up to Grinnell Glacier and Lake. We drove to Many Glacier Lodge where our horse backride was to begin.....and to kill some time ....and to satisfy one of Kathleen's 'bucket list' items....we went for a romantic canoe ride on Swiftcurrent Lake. The mountains in the background and the water like glass....it was a very enjoyable hour. My horse's name was Ruger, Kathleens was Stone. What I can't understand is why I can put 104 horses between my legs for 2000+ miles and not be as sore as I was after 4 hours with 1 horse between my legs. It was fun and the scenery was unbelievable.


Many Glacier Lodge from across Swiftcurrent Lake
Grinnell Lake with the waterfalls coming down from Grinnell Glacier
Day 12, 213 miles....2463 total miles--
What a beautiful day to leave. Not a cloud in the sky for our final...truly...Road to the Sun voyage. We stopped at Logan Pass and took a wonderful 3-mile hike to "Hidden Lake". Along the way we saw deer, marmots, moutain goats, big horn sheep and breath taking views......in spite of the hundreds of other folks taking the same hike. We crossed snow and cascading snow melt to the overlook of hidden lake. We then left the park and headed for Idaho....took a very scenic drive along beautiful Lake Koocanusa with emerald green water....and then along the Kootenai River until we landed the wing in Libby, Mt. for the night. We finally have internet service after 2 days without....as well as cell phone service having been without that for 2 days ( no ATT here, I guess ) Got to the motel and worked thru my 1397 emails that were mostly spam....good grief.


What a beautiful day at the Hidden Lake overlook.... after 1.5 miles....mostly up...what a view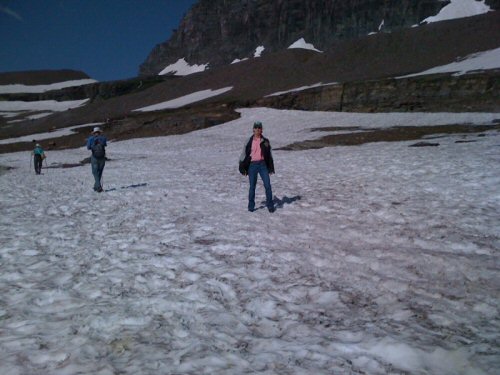 Kathleen hiking thru the snow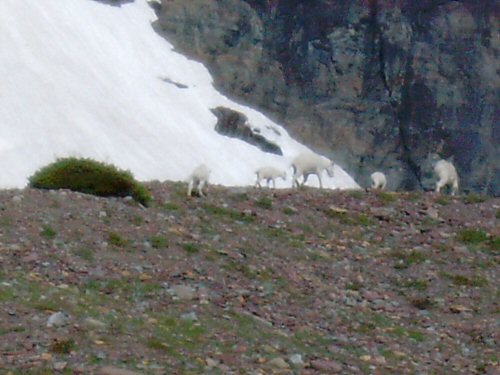 Mountain goats crossing the ridge just above us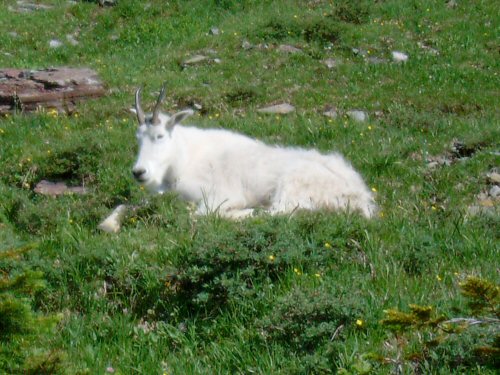 moutain goat up close and personal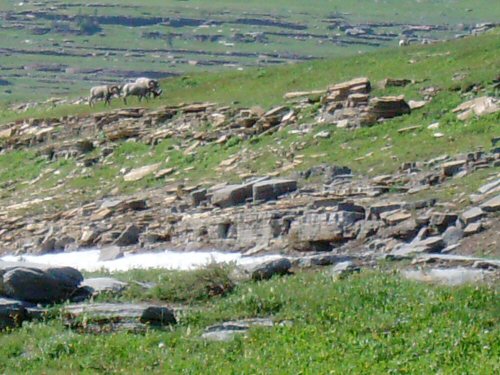 Big horn sheep
Day 13, 378 miles....2841 total miles--
Started late today after waking to thunder and lightening. Waited for that to clear before heading to Spokane, WA. We crossed into Idaho....took a short hike to see beautiful Kootenai Falls. We have been following the Kootenai River for quite a while....it is just "picture postcard" beautiful. We've seen Eagle or Osprey nests high in the trees along it. We continued a nice ride across northern Idaho then into Washington State. Stopped in Spokane to buy a new camera.....mine was dropped and trashed in the above Avalanche Falls adventure a few days ago. Thought it might revive after a few days....but didn't. We then did something we don't do often...jumped onto I90 to make some miles back across Idaho and back to Montana. It was quite a ride.....it is a real curvy interstate and downhill most all day. Speed limit of 75 made it quite exciting.....at least for me....Kathleen was holding on tight and said she felt like she was riding a bobsled all day. We landed in Missoula, MT for the night. Took the bike to the car wash to remove the grime left from all the road work on the Road to the Sun.....that will pretty much insure we'll be rained on tomorrow.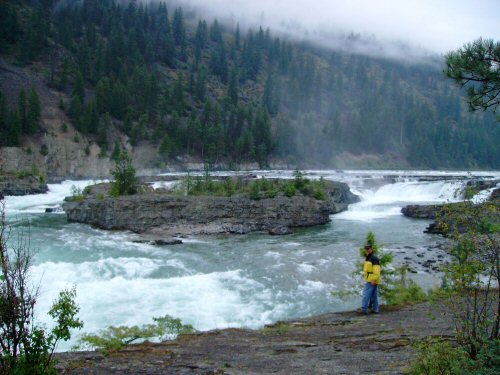 Kootenai Falls
Day 14, 252 miles....3093 total miles--
Not many miles today....we are trying to time our drive tomorrow...to work well with going thru both Yellowstone National Park and Grand Teton National Park. We landed the wing at Livingston, Mt, just 50 miles due north of Yellowstone. That is about as close as we could get without reservations...we DID make reservations for tomorrow night in Pinedale, WY, just 50 miles or so south of the Grand Tetons.....again about as close to the parks as we could on the south side. Kathleen got a little more "Bobsled" riding today....we also "ested" today.


This is the Berkeley Pit in Butte, Mt. It is a mile high, a mile deep, and a mile wide. Opened in 1955 mining ceased in this pit in 1982 and has been filling with water ever since.
Day 15, 300 miles....3393 total miles--
Had a great day...started early and entered Yellowstone from the North Entrance. The 50-mile ride from Livingston to the entrance was a very scenic ride in itself. Stopped off and on thru the park but didn't see as many animals as we did 2 years ago when coming in from the NE entrance. On to Grand Teton National Park....truly majestic. We did see a moose while in the Teton area. Drove thru Jackson and on down to Pinedale, Wy for the evening. A small but VERY nice little town.


Entering Yellowstone National Park from the North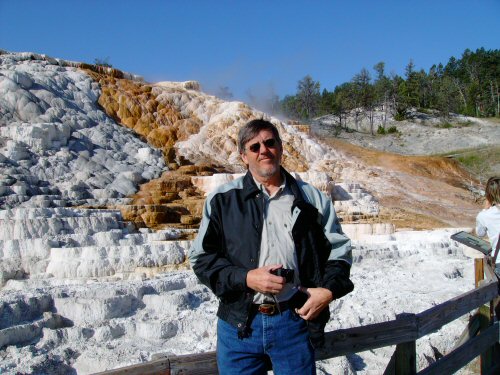 at the Mammoth hot springs area of Yellowstone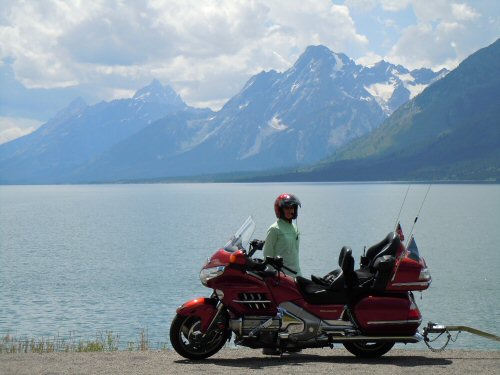 Grand Tetons
The moose we saw in the Tetons
Day 16, 388 miles....3781 total miles--
Today was mostly a travel day...but we really did see some neat sites and rode some wonderful motorcycle roads. We drove thru the Flaming Gorge National Recreational Area. It was beautiful....it gets it's name from a fiery red rock in part of the gorge that looks like it was on fire to the early explorers. When we stopped at the dam....it made us think we were at Quartz Mountain....similar landscape. Headed on south down Highway 191...this called the Dinosaur Diamond scenic byway......wow..what a ride. It reminded Kathleen of our trek up and down Mt Evans. It went thru everything from desert scrub brush to high country pines. There were deer, antelope, and a few cows all along the way that we had to keep an eye out for ( it was an open range ). We actually had a close encounter with a coyote.....but we both survived. We stopped by the Dinosaur National Monument, but we weren't too impressed and continued our journey to our evenings destination of Grand Junction, Co. KOA. We will spend 2 nights here to allow us to visit the Arches National Park in Utah and Colorado National Monument here in Grand Junction tomorrow.


Tho' the pictures don't do the actual scenery justice...this is above ( about 6 switch backs) the Flaming Gorge Dam and unique suspension bridge a short distance from the dam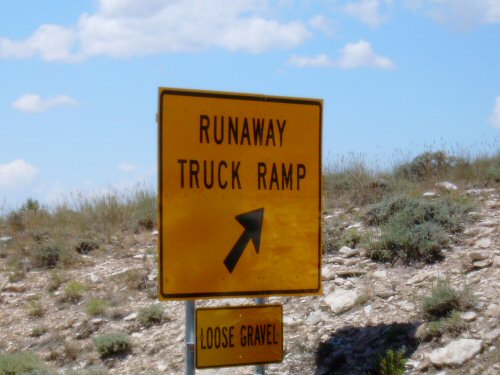 There were lots of these signs on the road today.....Kathleen was wondering if there was a "Runaway Motorcycle Ramp". I think she closed her eyes more today than on the Mt. Evans adventure.
Day 17, 303 miles....4084 total miles--
What a surprise today !! We had chosen a scenic byway--Hwy 128--Dinosaur Diamond Prehistoric Highway to Arches National Park. The highway followed the Colorado River the whole way....down into some deep canyons...it felt and looked as if we were riding in the bottom of the Grand Canyon. Then we arrived at Arches....I wasn't expecting much...but was totally impressed with the park....well worth the trip. We then drove back to Grand Junction but just before entering town we arrived at the Colorado National Monument. We had no clue what to expect......what an awesome ride and scenery. In about 5 miles we went up over 2000 feet. The drive itself was about 40 miles....the rest along the rim of the canyon overlooking Grand Junction. The trip up Mt Evans was just a 'warm up' for this one....... it made that trip over the Tail of the Dragon last year in North Carolina seem like a road for sissies. Coming down from top of the canyon was a section of the road called the "Serpents tail"....was it ever.


This is some of the scenery seen in the canyon along the Colorado River towads Arches. What you see, we eventually road by at the base and able to look up from the bottom. This picture was taken just before we actually entered the canyon...we were down there for probably 30 miles.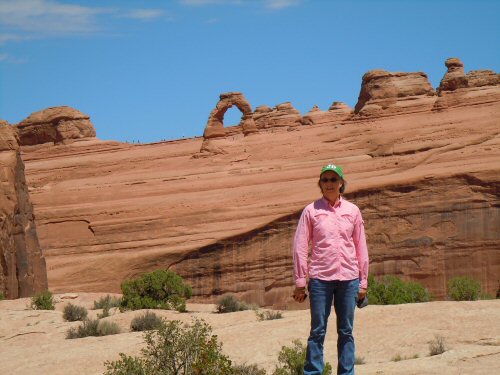 Known as "Delicate Arch". Note the small specks under and around the arch...those are people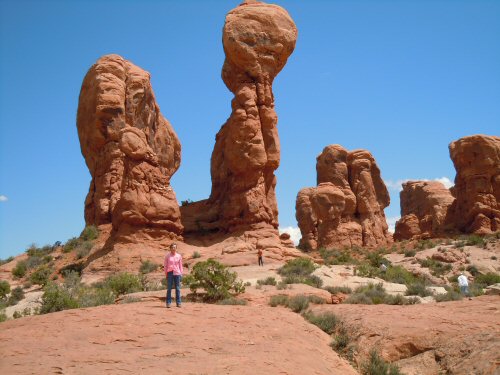 Just a few of the impressive pillars....these are in an area known as "The Garden of Eden"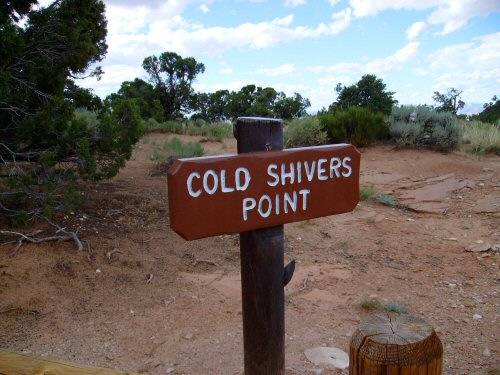 And it really was...did... below is what you see from the point. Down at the very bottom is Grand Junction, Co. The sign is about as far as Kathleen went......
Day 18, 207 miles....4288 total miles--
We had another very scenic ride down another Scenic Byway...HWY 141 at the bottom or along the side of several canyons. We followed 2 or 3 different rivers.....a lot of old mining operations. We arrived in Norwood, Co just as a storm was arriving as well. It was about noon so we decided to have some lunch and hopefully the storm would pass us by.....it did. Continued on to Ouray, Co along the Million Dollar Highway over Red Mountain pass and landed in Silverton, Co for the night. Barely found a room at the Silverton Inn and Hostel......that's basically what it was, a room... a B&B (without the breakfast). Back in the 1800's it was actually a brothel. Went walking to the shops in Silverton. Will head for the Taos, NM area tomorrow. There are storms forecasted for tomorrow so we'll just have to wait and see how far we get.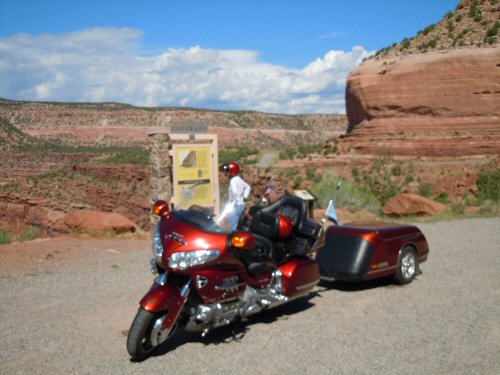 This was an interesting area we stopped along the way on Hwy 141.....Hanging Flume.... A flume to service old mining operations was constructed and hanging about 1/2 way up the sheer cliff of the canyon below where we were parked. Note the road in the background that we had just come down.
For a little perspective...the same road and noting some unlucky drivers that didn't negotiate the curve quite so well.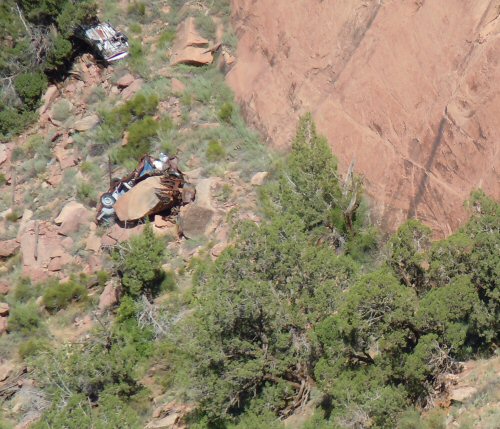 Zoomed in 10X on the cars at the bottom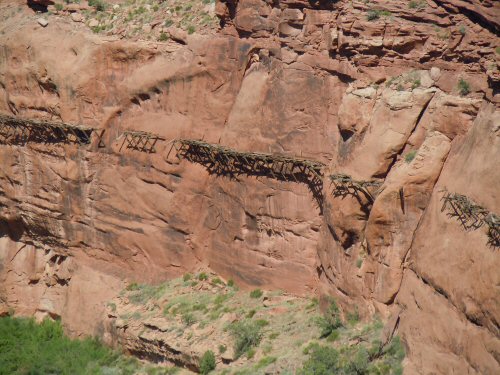 Zoomed in on the flume remnants
Day 19, 285 miles....4573 total miles--
Left Silverton early....finished the Million Dollar Highway and arrived in Durango....on to Pagosa Springs where we stopped for a hike around the hot spring area. Pagosa Springs is a very nice area... it and NW Montana are our favorite areas that we have gone thru. We then headed towards Chama, NM. We were thru there a couple of years ago on our Calif. trip but wanted to return.....it is an almost enchanting area with the narrow gauge railroad. Also a beautiful drive thru Cumbres Pass and LaManga Pass...up over 10,300 feet. Stopped for lunch in Chama and while waiting for the waitress...I noted on my I-phone that there is a Hampton in Taos...I immediately called and made a reservation !!! didn't get much rest last night at the B&B...(without the breakfast). Just before arriving in Taos we passed some really funky structures called "Earthships" near the Rio Grande Gorge...I wanted to stop and take a few pictures but we had a thunderstorm hot on our tails....so we just googled it once we got to the Hampton. If you haven't seen these.....you should go to taosearthships.com and check it out....pretty wild. Don't think we'll be making a purchase... Planning on making a dash for Oklahoma tomorrow....maybe not all the way home but at least instate. Hopefully will pick up enough speed to suck some of this cool weather we have been experiencing for the past 3 weeks and bring it home with us.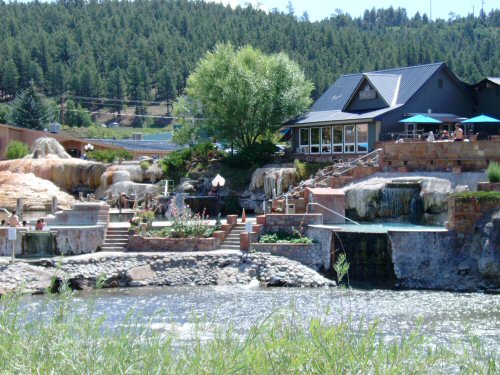 some of the "stewing areas" in the hot springs at Pagosa Springs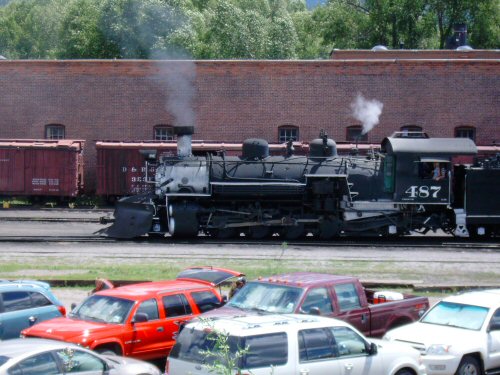 one of the locomotives at the Chama train station
Day 20, 323 miles....4896 total miles--
Forgot to mention yesterday....we crossed the Continental Divide for the 10th and final time for this trip. Rained most of the evening in Taos last night...but cool air and clear skies greeted us when emerging from the Hampton. Couldn't leave Taos without going back out to the Rio Grande Gorge and the Earthships for a few pictures. Had a nice ride from Taos, stopped briefly at the Angel Fire ski area, and then on to Eagles Nest. Nice ride thru the canyon towards Cimarron.....broke out into the flat lands and heat. Crossed the border into Oklahoma.....lost and hour....greeted with 100 degree temps....and decided to stop at Guymon. At one point in the Oklahoma panhandle.....cruising at 65 and saw something in the road ahead....my brain was trying to figure out what it was.....looked like white fence posts...turned out to be antelope butts. A small herd of antelope were walking down the road way in the same direction as us. I slowed and they finally moved to the side of the road. We will have a short 250 mile ride on home tomorrow.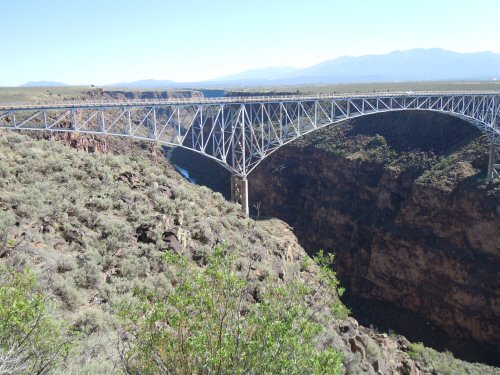 the Rio Grande Gorge
One of the Earthships up close and personal
Day 21, 319 miles....5215 total miles--
HOME !! It was a wonderful 5K mile trip on the bike....but it is nice to get back home....even if it was 104 degrees on arrival. Yesterday and today were our hottest the whole trip....before these, we only saw 94, once, the whole trip...there were several times we were wearing our heaviest coats. The only casualties of the trip was the fore mentioned camera.....then at Shelby, Mt a storm blew away the nylon cover used for the trailer ( we never did find that thing )...and then, my air horns on the motorcycle decided to quit. All very minor difficulties...we had a very successful trip. We now have almost 34,000 miles on our 3-year old motorcycle.....getting good use. All the critters at home survived just fine but were obviously glad to see us. We will travel tomorrow to pick up Gretchen at Mom's. Thanks to all our wonderful friends and family that 'had our backs' that made this wonderful trip possible.





TynyŽ home page
The TynyŽ Goat Ranch


Oklahoma City, Oklahoma