This year's trip should cover about 6000 miles. This trip takes us north to the Bad Lands NP, Mt. Rushmore, north into Canada, West to Jasper NP and Banff NP. Then south to Waterton and Glacier NP, Beartooth Pass, Rocky Mtn NP, to the top of Pikes Peak.............and who knows what in between all those highlights.
Day 1, 525 miles....525 total miles
--This was not a real exciting or scenic day. Lots of corn. The plan for this day from the beginning was to just get out of the anticipated Oklahoma heat. It worked out. The highest temperature out on the road was only 91. Kathleen did get to wear her favorite suit (rain) just 4 hours into the trip. We ran into some nice showers just north of Fort Supply. It was just a brief period of rain. Then north of Hays, Ks there was a storm to our east that the outflow winds were gusting in the 40-50mph. It was a cool 82 degree wind but quite a challenge for Kathleen to stay on the bike. We landed in Lexington, Nebraska for the night. On to the Bad Lands and Wall Drug tomorrow.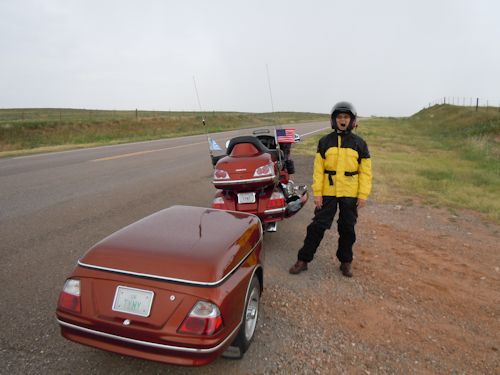 7/20 Kathleen putting on her rain suit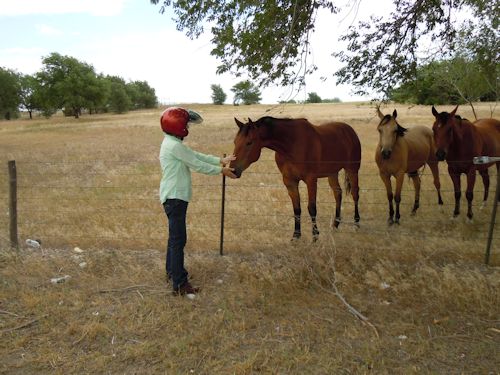 7/20 Kathleen visiting with some of the locals after taking off rain suit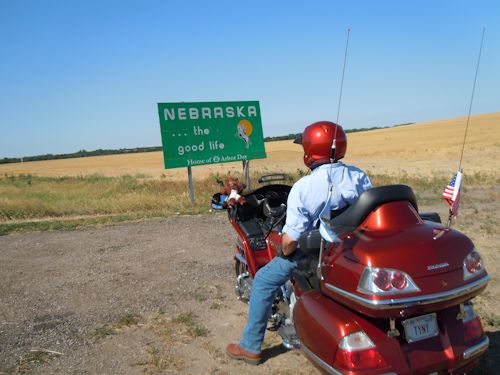 7/20 Phil and Rumble (sitting on the left mirror) checking out the Nebraska sign
Day 2, 385 miles....910 total miles
--Started out the day slowly. If you need a job.....come up here!! All the restaurants, including McDonalds are trying to find help. After our 3rd try we finally scored breakfast. We then had a nice ride and again....won the race with a mean thunderstorm. Rain suits stayed stored away today. It was a nice cool day until later in the afternoon when we arrived in Badlands National Park where it was 97 degrees. It was a very interesting place. We moved on to our stop at Wall, SD. Made a hike to dinner and Wall Drug. Wall Drug is a very neat place if you've never been there. The next 2 days will be spent in the Mt Rushmore / Crazy Horse area.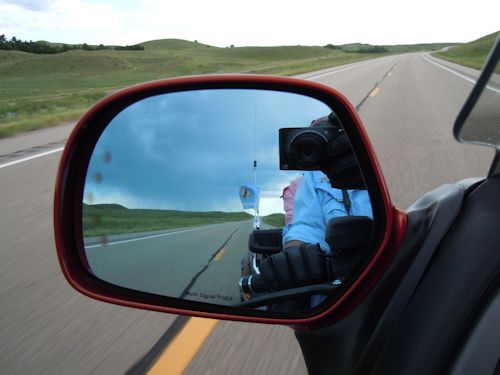 7/21 The storm where it needs to be.....in the rear view mirror.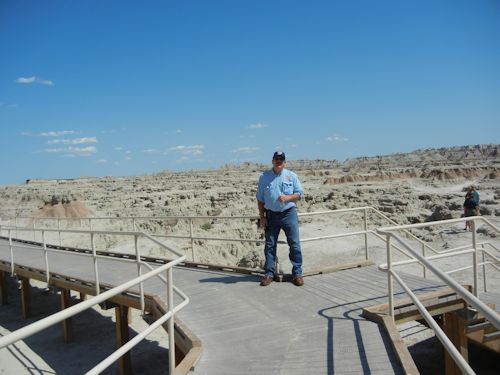 7/21 One of the overlooks in the Badlands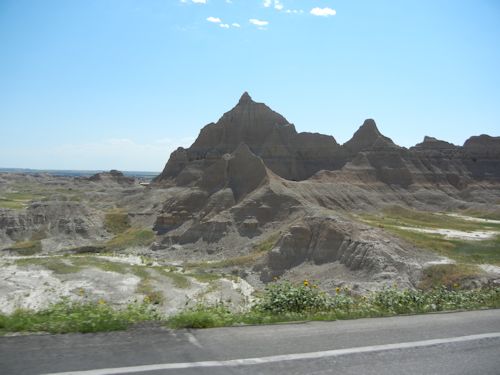 7/21 More Badlands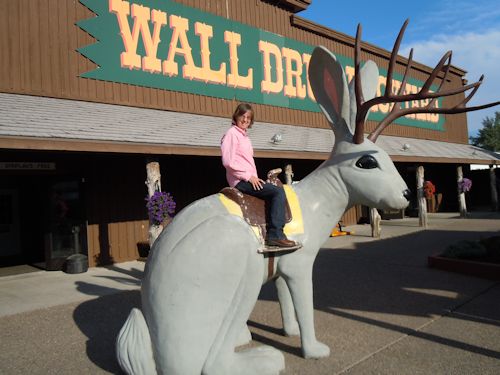 7/21 Kathleen at one of the areas of Wall Drug
Day 3, 158 miles....1068 total miles
Made our way to the Black Hills and road some of the wonderful roads thru the Custer State Park. We road the Needles Highway again ( where Kathleen got hailed on 5 years ago ) We arrived to our KOA kabin for the night and took the shuttle to the night program and lighting ceremony at Mount Rushmore. It was a very moving program. It instilled in us great pride in the work of our nation's founders and exceptional presidents.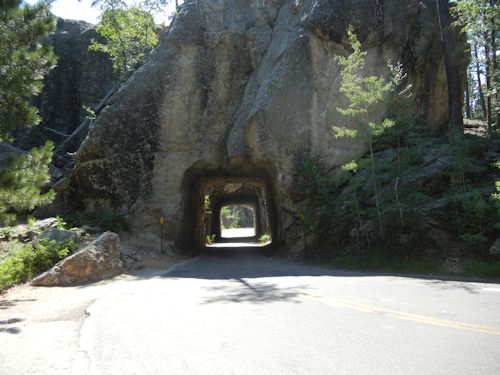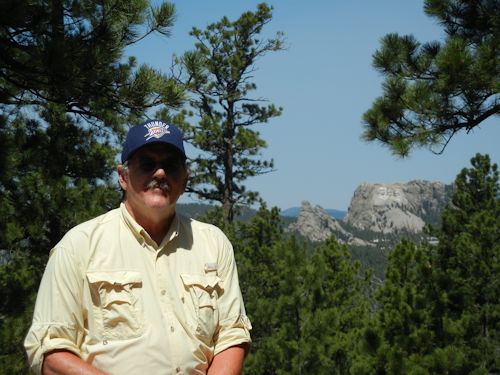 7/22 Couple of pics along the Needles Hwy. Mt Rushmore over my left shoulder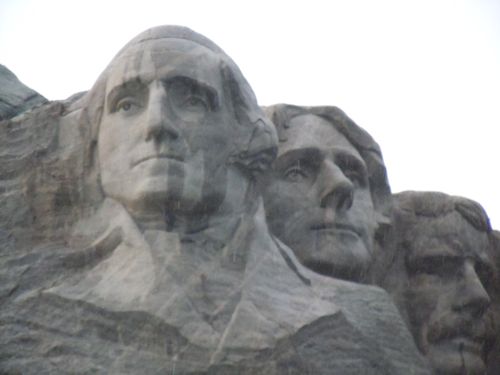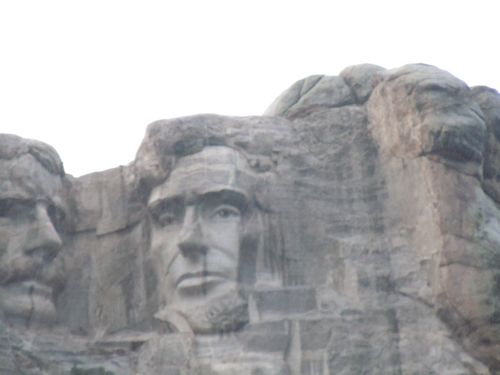 7/22 They seem to be crying...wonder if they've been keeping up with the news, etc..... (actually it just began raining)
Day 4, 40 miles....1108 total miles
Today was a short drive to the Crazy Horse exhibit. We were here about 15 years ago. They have made a lot of progress but still have a long way to go. It should take another 25 years or so to complete. This is a 'family' project, not government funded. The original sculptor died and his wife and 10 kids are carrying on with the project. It is really something to see and a wonderful Indian heritage museum as well.
7/23 In the foreground the model...background the actual mountain sculpture.
7/23 cRaZy hOrSE and Rumble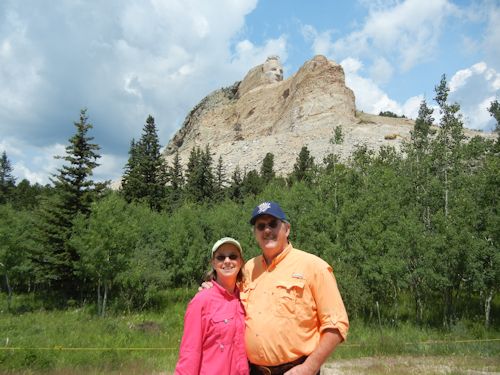 Day 5, 316 miles....1424 total miles
Great ride today temperatures in the low 80's all day. We headed to Deadwood, SD then thru the Spearfish Canyon scenic highway. We rode it 5 years ago and wanted to repeat it. After emerging from Spearfish Canyon the landscape changed. Out of the Black Hills and into the wide open spaces of South Dakota and then on into North Dakota. This is our first visit to North Dakota, tho' Tony spends a lot of time and thought in this area since he is one of the main geologists for Continental Resources for the Bakken/Three Forks formations of North Dakota.
7/24 Slight landscape change from the Black Hills around Mt Rushmore / Crazy Horse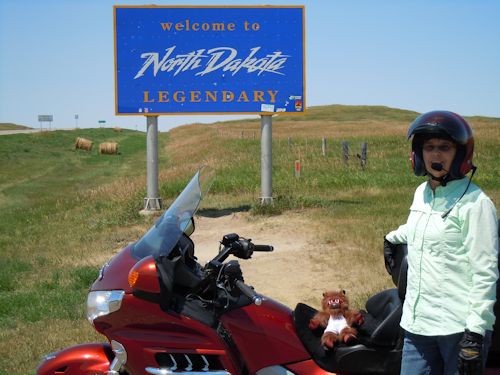 7/24 Photo op entering North Dakota
Day 6, 413 miles....1837 total miles
Whew..very l o n g 413 miles today. We started a little late and decided to cruise the Theodore Roosevelt National Park first. It was a very beautiful rugged park. We saw lots of prairie dogs, wild horse and buffalo besides the unusual landscape. We then headed up Hwy 85 to Williston,ND. Tony had warned us of all the truck traffic because of the oil boom here. Kathleen thought she'd count the trucks to pass the time, but lost count somewhere around a gazillion. If a gazillion trucks was not enough...there was about 100 miles of road construction, all the way from Williston to the Canadian border. Much of that was on unpaved, loose gravel ( no fun on a Goldwing )at about 25 miles an hour. We crossed the border with no difficulties. I was making up some time after we crossed the Canadian border until Kathleen told me that those speed limit signs weren't 100mph, but km/hr. Oh well...nobody caught me. There are oceans of yellow Canola and green wheat fields. Landed in Regina, SK for the night....around 7pm.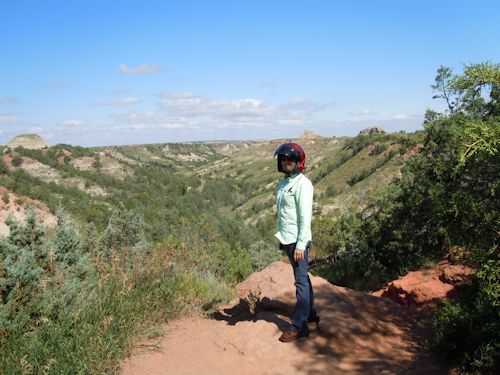 7/25 A couple of pics from the Theodore Roosevelt National Park
Day 7, 788 km....3745 total km
The weather man last night said there was a good chance of severe storms in Calgary today so we 'beat the feet'. Not really anything to see along the way anyway. Travel today was on a good road, Hwy 1, the Transcanadian Highway....much like I-40. No storms. We will lay over a couple of days here in Calgary.
7/26 One of the many beautiful fields of Canola in Saskatchewan....many times, as far as you can see.
7/26 Gas is a little pricey here. That's $1.25/liter or about $4.73/gal
Day 8, 0 km....3745 total km
Today was a planned "recovery day" after a couple of hard days of riding. We had planned to go to the Calgary Zoo. We had heard it was exceptional.....we just didn't hear ahead of time that it was closed!! We drove there to find out. It is actually located on an island in the Bow River going thru town.....we forgot about the floods 4 or 5 weeks ago in this area. The zoo was devastated. So it was a more restful day than we intended...but it was certainly enjoyed anyway.
Day 9, 552 km....4297 total km
We have reached the "turn around" point of the trip. We left Calgary early this morning @7am (48 degrees) to try and get near our destination before the forecasted thunderstorms hit us on the road. Turns out the weathermen here are not as good as the ones at home. Two days straight now they have predicted heavy thunderstorms, lightening, and hail ( not a cyclist's friend ).....and we only got a few sprinkles on 1 of the 2 days. We entered Banff National Park and stopped briefly at Lake Louise then on to Jasper National Park. Since we are traveling back thru the same way as we leave we were checking out places to stop the next couple of days. We will be taking the Gondola up the mountain at Lake Louise ( supposed to see Grizzly )as we leave in a couple of days. Tomorrow we will take a tour trip/cruise to Maligne Lake in Jasper Park.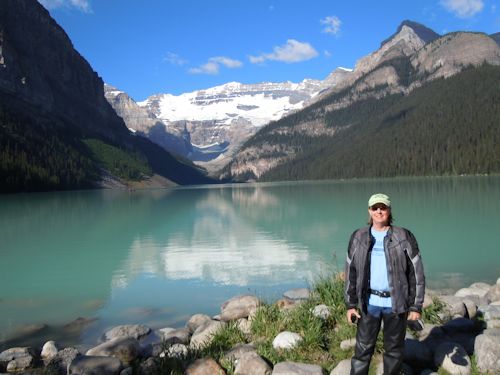 7/28 Kathleen at Lake Louise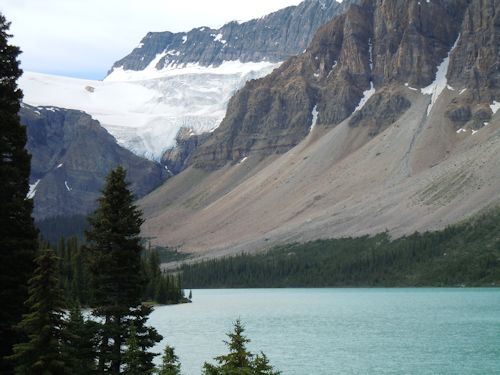 7/28 Bow Lake and glacier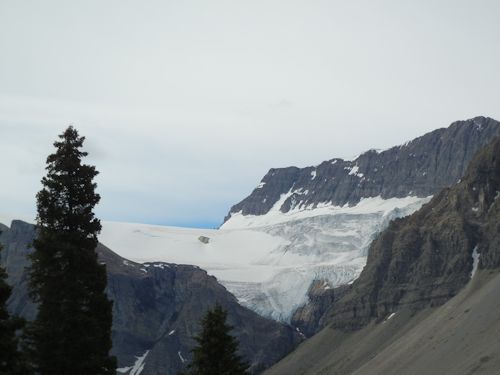 7/28 One of the many glaciers as seen from the road
7/28 Disregard the first sentence above.....we saw this sign on the way to dinner....we'll be in touch.
Day 10, 192 km....4488 total km
We made it to Jasper in time for our Maligne Lake adventure. First we went on a wildlife tour and found a black bear, mule deer, and pair of Elk. We then boarded the boat on the Maligne Lake for a 1 1/2 hour cruise to Spirit Island and back. It was a really nice day. The drive back to our cabin and the rest of the evening was in the rain. Tomorrow we will be on the search for a Grizzly.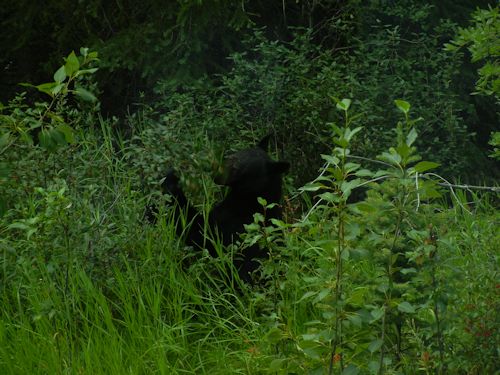 7/29 black bear and elk seen on our wildlife tour
7/29 Kathleen with Spirit Island behind her. 45 minute boat ride to get here.
Day 11, 483 km....4971 total km
OK, so we decided maybe Alaska will have to wait for another trip. Did a ewey and headed for home....sort of. We retraced our route via some side roads towards Banff. We took a side trip for a Grizzly hunt but did not luck out. When we got back to the Lake Louise area we took the ski lift up for a birdseye view of the Lake Louise area as well to see the Grizzly reported to be there as well....still no luck. Stopped many times along the way for ooohs and ahhhs of the beautiful scenary. We will cross the border back into the US tomorrow and stay at the base of the Going to the Sun Road in Glacier Park....which will be our exit the next day.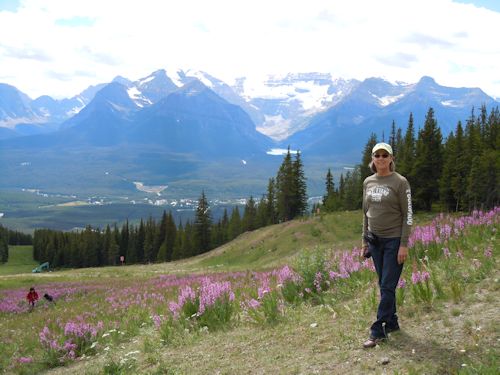 7/30 Kathleen at the top of Lake Louise Ski Lift with Lake Louise in the far background
7/30 Athabasca Falls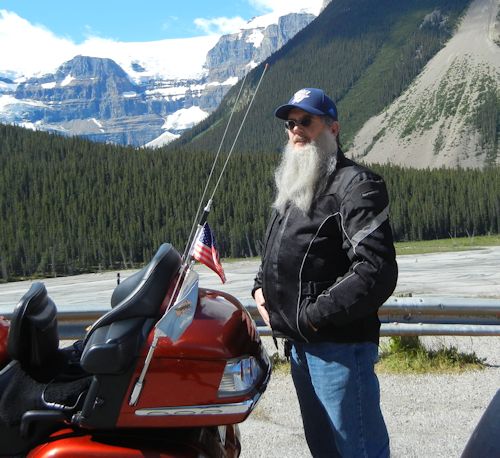 7/30 I don't know what it is about these mountains but I've been feeling and looking more and more like a mountain man....or maybe Si Robertson
Day 12, 312 miles....3401 total miles
We decided to cross the Continental Divide into British Columbia, then turned south thru Kootenay National Park. We crossed the border via the long, hot lines at US customs back into the US. It was nice to see familiar gas stations and to know how far away something was from the road signs, etc. We arrived at West Glacier, Mt. next to Glacier National Park. It was surprising that it was 88 degrees here when we arrived ( it was 48 this morning when we started )and then I got online to see it was 85 at home.....go figure. It seems we are missing some of the nicest July weather at home in years.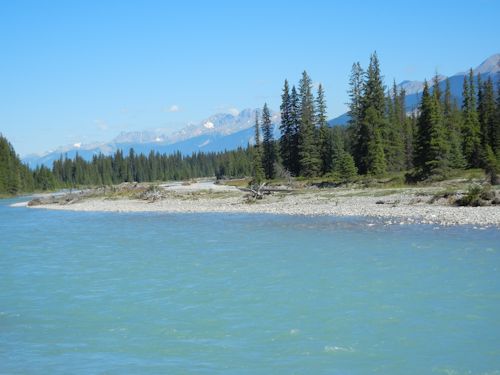 7/31 The Kootenay River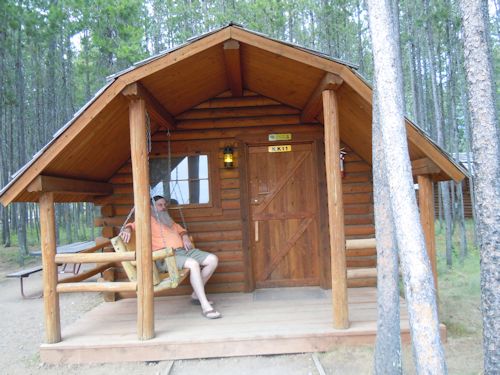 7/31 Relaxing at our cabin at West Glacier
Day 13, 221 miles....3622 total miles
Rain/thunderstorms were predicted for today so we were not sure how much of our plan would be accomplished. We had a great ride over the "Road to the Sun" in Glacier National Park. It was cloudy but no rain. We then took off to see how far south we could make it before the storms discouraged us. We made it to Great Falls, Mt and decided to look for a camping spot since we had no reservations. We lucked out and found them at the Hampton, a well received perk after 3 nights of plan B. Storms still forecast for tomorrow but we hope to make it to Red Lodge, Mt. at the base of the Beartooth moutain pass. We rode 1/2 of the Beartooth highway on our first trip in 2008. We are looking forward to riding up the side up the mountain we missed then, as well as repeating the Chief Joseph Scenic Byway.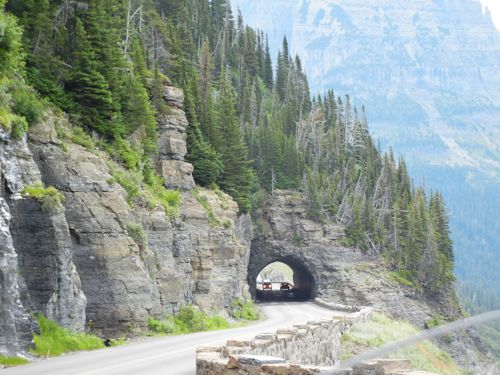 8/1 Along the Road to the Sun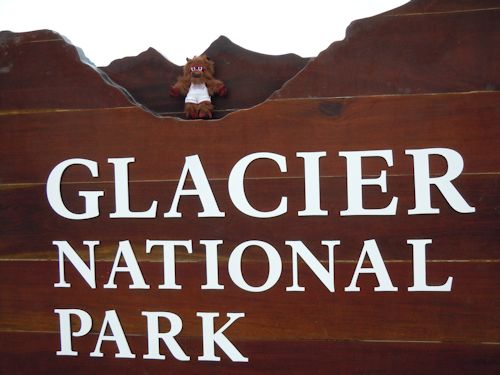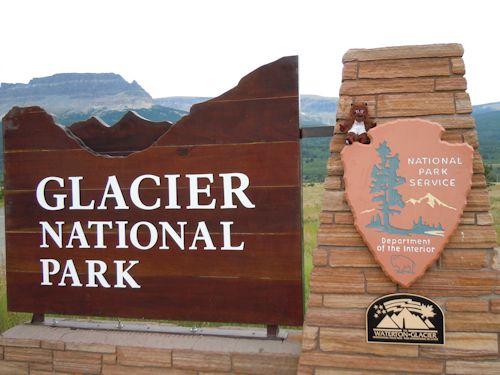 8/1 Rumble at Glacier National Park
Day 14, 339 miles....3961 total miles
Great ride again today thru central Montana and the Lewis and Clark National Forest. We landed in Red Lodge at the base of the Beartooth Mountain. We road thru a few sprinkles today, but it is supposed to be clear skies tomorrow for our ride up Beartooth and on to Wyoming.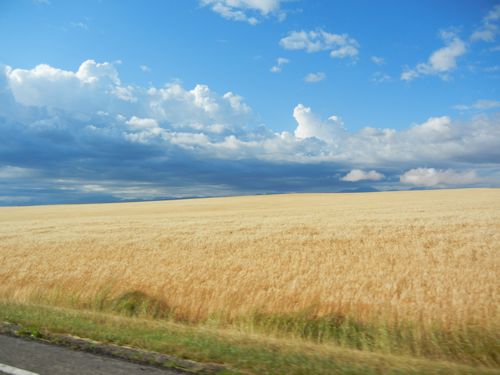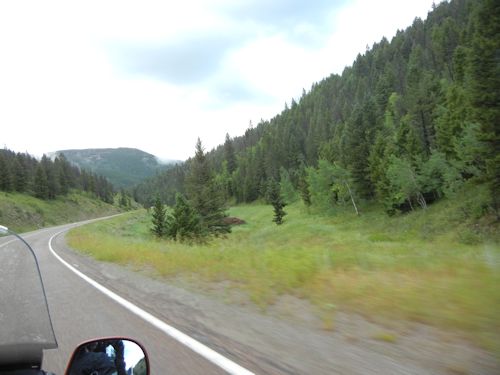 8/2 Some of the beautiful sights along today's drive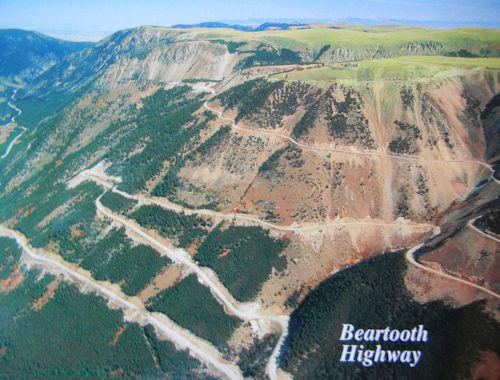 8/2 Our road to start tomorrow--Beartooth Hwy over Beartooth Pass
Day 15, 263 miles....4224 total miles
Wonderful weather for our ride up thru the Beartooth Pass @ 10K feet. We climbed another 8K foot mountain on the Chief Joseph Scenic Byway. I had to do an emergency braking for a young buck standing in the road as we rounded a curve. I thought I had anti-lock breaks but I did hear some tire screeching....might have been what made him move on, out of the way. It wasn't that close and we all survived.....the scarier moment a little later is when going thru a construction area a 4 or 5 year old girl ran out from between 2 cars into my lane. I had no time to react. Luckily, I was driving a motorcycle and she had room to retreat, had it been the car behind me, she would have no doubt been hit. Traveled thru the beautiful Wind River Canyon and landed the wing at Riverton, Wy.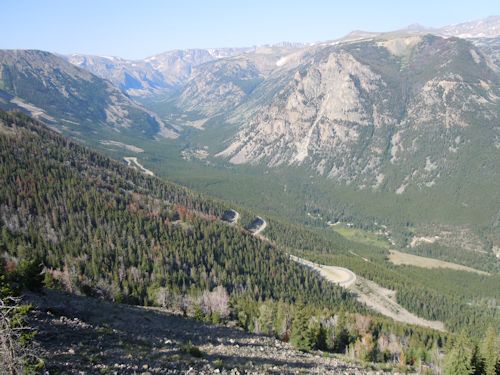 8/3 A couple of looks at Beartooth, going up and on top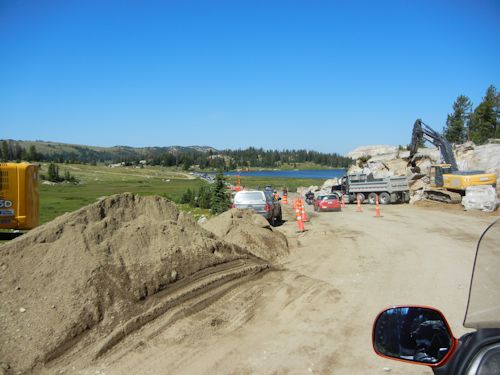 8/3 They say in these moutain areas, there are 2 seasons--Winter Season and Construction Season
Day 16, 264 miles....4488 total miles
We rode a road we were on 3 years ago that went by Split Rock. Since we were familiar with the Split Rock story ( marker for the Oregon Trail that could be seen for miles to guide the travelers ) I was curious as to when or how far away I could first see it. Sure enough...when I first saw it I checked the odometer and it was 30 miles later that we arrived at the base of Split Rock. The weather forced us to stop a littler earlier than intended today. However, we found a really neat area just west of Laramie, Wy (where we stoppped) We traveled along the Snowy Range Scenic Byway near Medicine Bow peak @ 12,013 feet. I checked my iphone altimeter...we were @ 11k feet on the road. This may have to be a destination for a later trip......or we may stay an extra day here to go back and hike around there. It reminds us a lot of Glacier NP but not nearly as crowded. We really like Laramie, Wy as well. Home of Wyoming University. It is a nice progressive type town but with that small town atmosphere.....35 years ago I might have chosen here to live and raise a family.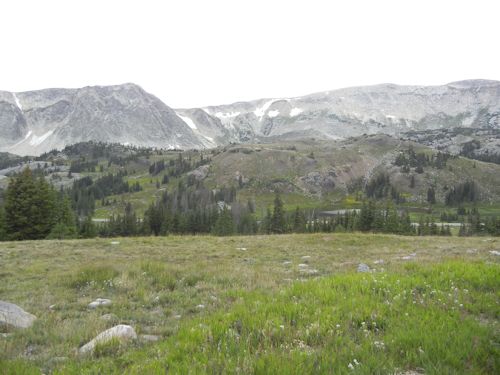 8/4 Just west of Laramie, WY along the Snowy Range Scenic Byway
Day 17, 325 miles....4813 total miles
Today, we learned it takes more nerve to drive a motorcycle thru the heart of Denver on I-25 than it does to drive a motorcycle to the top of Pikes Peak (even without guard rails) @14,110 ft. We did both!!! It began to snow as we started down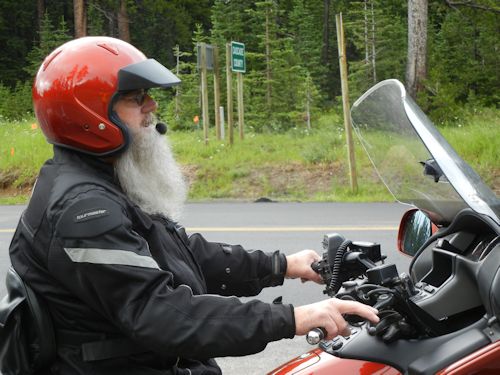 8/5 going up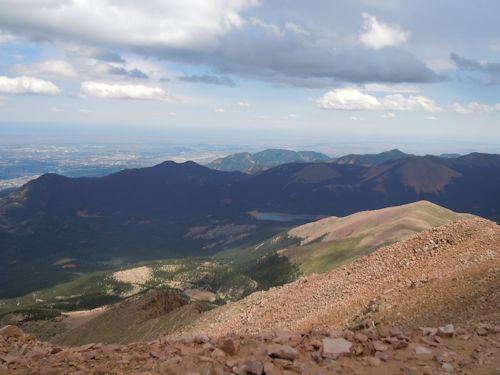 8/5 at the top
Day 18, 282 miles....5105 total miles
We've been altering routes and plans for the past 3 or 4 days in efforts to avoid the strong thunderstorms in Wyoming, Colorado, and Kansas. So far we've chosen wisely and have not been involved in any.... yet. We landed in Dodge City, Ks for the night after they had flooding rains yesterday. We are under a severe storm watch now....but we are 'holed up' at the Best Western (Hampton was full) and the bike is covered. Before, we were very close to Greely, Co that had a major hail and small tornado storm. Just brings a little more excitement and 'game play' to the trip. Us Okies are pretty good at reading the weather and guessing which way they are headed.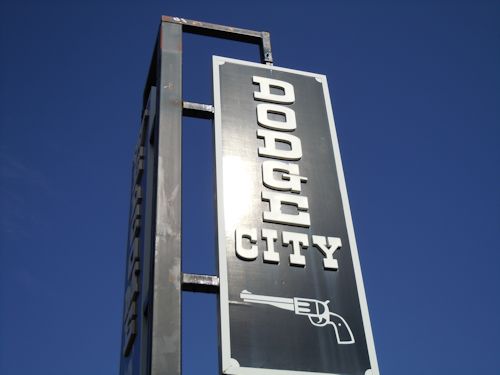 8/6 Dodge City, Ks and Wyatt Earp
Day 19, 285 miles....5390 total miles
Can't believe our August route back home thru NW Oklahoma was so cool. Good trip but glad to be home. Our 2007 Goldwing now has 60,000 miles on it.....what a way to see the USA (and Canada now).
TynyŽ home page